Incredible Adult DVD Rent-Per-Title Bargains!
posted by Sharon Peters, Bushmaster in Training on 05/06/13
If you've never Rented our Adult DVDs Per Title, or if you have and are out of the loop, we have over 28,000 Adult DVD titles that you can rent for $1.49! Super bargain, right? I mean, we all have to eat and pay the bills. You can't even get a double cheeseburger for $1.49 anymore! Yeah, we like to spread the love.




If you prefer to spend a little more, we have an additional 22,000 titles waiting to be rented. Mix and match, get crazy. We don't care. Hey, do what you do.

For those Twitter folk out there, we'd love a follow! Heck, follow all the porn stars we follow. They're always posting provocative pics and naughty little exploits. Browsing our large followed list is a great way to burn up a lunch hour or get through the last hours of the workday. Just don't tell your boss we suggested it. Read More
---
Used, Used, Used
posted by Sharon Peters, Bushmaster in Training on 04/05/13
Did we tell you? Maybe we did. We're telling you again! We have used DVDs for sale. Not only that, we have A TON of used DVDs for sale, everything from $2.95 to $12.95. Included are some kick ass premium DVDs from Jules Jordan and Evil Angel, giving you the best bang for your buck!




If that weren't enough, we still have a great sales special - 25% off of orders of $50 or more and free priority shipping on orders of $35 or more.

We also have our usual onslaught of new releases put in every day and a big chunk of new classics by Caballero. Watching your favorite adult DVDs does not get any easier. Unless you live in a cave or somewhere where the internet doesn't exist yet.

Spring has sprung, so clean out those DVD cabinets and make room for some fresh new sales DVDs! Read More
---
Happy Valentine's!
posted by Sharon Peters, Bushmaster in Training on 02/02/13
Happy Valentine's Month, BushDVDers! In honor of the month of love, we have super awesome coupon code to use on rent-per-title orders! Type in cupid2013 in your cart before checkout to receive a 15% discount on your rental order. And it's valid all month long! We have over 14,000 titles for $1.49, so there's something for all your tastes and your budget. See? We aren't so black-hearted after all.




Don't forget, if you head over to our sales section and make a purchase of $50 or more, you get 25% off of your whole order and free priority shipping, no coupon code needed! We have everything from big butts to girls and their toys.

Do you have a suggestion for us? Is there a studio you really like and want us to carry? Send us a note at suggestions@BushDVD.com

Let Cupid's arrow strike you in the butt and get all the adult goodies you need for this romantic holiday. We promise not to show up unannounced. Read More
---
Love That Amateur Action!
posted by Sharon Peters, Bushmaster in Training on 11/21/12
There's something refreshing about amateur porn. Nothing fake, no fancy lighting and make-up. Just good old fashioned sex with real people. They could be your next door neighbors! We got 'em for sale, and we got 'em cheap:




Sweet, natural porn with no filler. We recommend buying in bulk so you can gift some and keep the rest for yourself. Call it an early Christmas present. Read More
---
Tits-a-Plenty!
posted by Sharon Peters, Bushmaster in Training on 07/03/12
Reality Kings is flowing around here and we got the tits to prove it! Bury yourself in some Big Naturals or Big Tits Boss for all your mammary musts!




Plenty more Reality Kings than that, including the popular 8th Street Latinas series, MILF Hunter, Pure 18, Round and Brown.. the list goes on. As always, buy 8 for $35 - that includes free priority shipping! A perfect way to heat up this already sweltering summer. Read More
---
Toys - Not Just For Kids Anymore!
posted by Sharon Peters, Bushmaster in Training on 05/07/12
As most of us girls know, a toy can be our best friend. But guys need to remember that toys are for boys, too! Whether it's for both of you, or just you. The flesh vaginas are popular for a REASON, guys. From massage oils, to board games, vibes, plugs, to vaginas, dolls, and vibrating rings.. hours of fun right there!

Where do I buy all this fun stuff, Bushmaster? Funny you should ask.. Click HERE to start your sex shopping adventure!



For him, a tight life-like masturbator!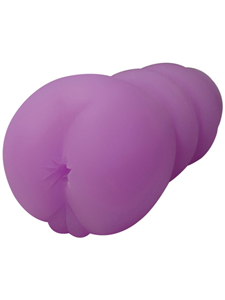 For her, a triple-stimulus vibrator!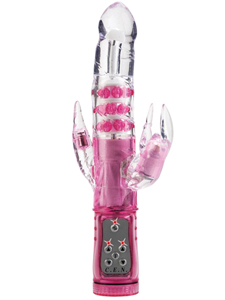 Read More
---
Happy New Year! .. in February
posted by Sharon Peters, Bushmaster in Training on 02/01/12
Okay, so it's been 2012 for a while now. Not so new yearsy anymore, but at least we remembered! C'mon, like you remembered our birthday last year. Or the year before..
We disgress! Hope you all had a fab-tastic XMAS, New Year and spring is springing for you. It's nice and warm here in southern California (we're not bragging) and it's time we start some spring sales because we're in that kind of mood.
Brand spankin' new in our sales section is some kick ass new classic porn, Blue Vanities! Each DVD has multiple scenes from some of your favorite classic performers, and some never before seen material.
We've also got Blue Vanities for rent here, just in case you can't pick just one or two. See them all!
Read More
---
Sales DVDs for $2.95? We've Lost Our Minds
posted by Sharon Peters, Bushmaster in Training on 10/22/11
Maybe it's all the Halloween candy we've been eating, or perhaps it's all those late nights surfing the internet. But the BushDVD gang has decided to sell a TON of our sales DVDs for $2.95. And yes, we're serious. What were we thinking? We still don't know. What we DO know is that you can't even buy a tall mocha frappachino half calf strawberry americano latte for less than three bucks. And coffee lasts what, an hour? These DVDs will give you many hours of entertainment - no lines to stand in, no heartburn, and no snooty barista to deal with.
We've also got a mountain-sized stack of all of your favorite Homegrown DVDs like Cherries, Cream Pie, Deep Throat Virgins, California College Student Bodies, Sex Kittens.. you get the idea. We've also made some of THEM $2.95 as well (please don't tell our boss. We keep sending him to get us coffee so he doesn't notice.)
Read More
---
New and Improved Website Search!
posted by Sharon Peters, Bushmaster in Training on 08/22/11
In an effort to continually improve our members' experience on the website, we have begun adding tags to all of our DVDs! We think it's going to really narrow down searches so that you can find what you are looking for more easily.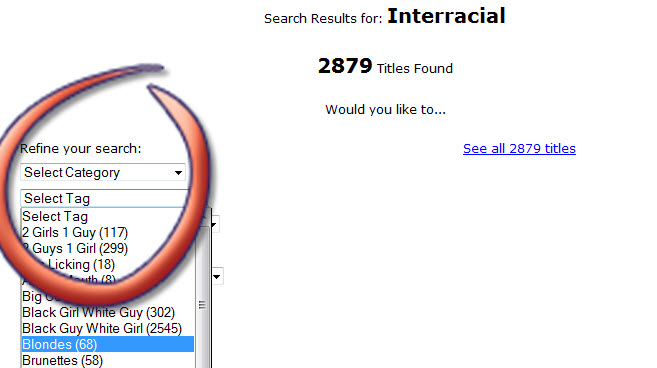 For example, if you select 'Interracial' as a category, you're going to get almost 3000 results! We know that's a lot of DVDs to look through. So we've added tags that you can choose to further narrow your seach. You then have the option of choosing 'Black Guy / White Girl' or 'Black Girl / White Guy' among many other tags. We know that you don't have hours and hours of time to spend searching for what you really want, so tags make it easier. Unless of course you DO have hours of time that you want to devote to salivating over each and every box cover. Who are we to stop you?
Read More
---
It's Lethal, It's Hardcore.. It's Our Studio of the Month!
posted by Sharon Peters, Bushmaster in Training on 08/03/11
Summer is blazing by, and instead of lazing around in our lawn chairs, drinking beer and sunning ourselves, we decided to keep on working to give YOU some kick ass sales specials:
August's Studio Du Jour is Lethal Hardcore! What does that mean? That means we are busting at the gills with amazing sales DVDs from LH - 8 for just $35! You can't even take somebody out to dinner for that anymore. So spend it on yourself! Less than forty bucks and you get 8 full DVDs of all that Lethal Hardcore deliciousness. And unlike that date you might have taken to dinner? We're POSITIVE that these DVDs put out.
Read More
---