Sweet Alice
(139)
| | |
| --- | --- |
| | Get it with a Free Trial! |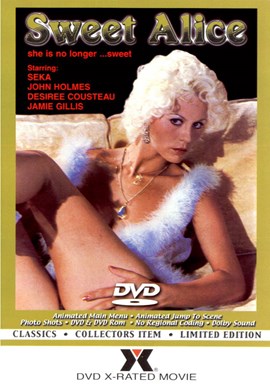 Performers
Director
Studio
Category
Duration (approximate)

VCX

Date Added:
09/05/2002
Production Year:
2001
Format:
DVD
There are currently no member reviews. Be the first to review this title.
Industry Reviews (1)
Reviewed by fu_q 02/04/17
Source: AdultDVDTalk



**Note ? This review is based upon the web version of the film streaming on the AdultEmpire.com Unlimited service. As such, any bonuses haven?t been given a rating, and there could be some discrepancies between this version and other releases.** Review:

When his stunning, blonde wife, Seka, leaves him for the big city, a desperately lonely rancher from New Mexico, Kevin James, heads into town to find her. Of course, what he discovers that she's been up to there (porn) might just end up being a bit more than he can handle. Such is the case in "Sweet Alice", a very good, 1983 release from VCX and director Adele Robbins. Featuring the gorgeous "Platinum Princess of Porn", Seka, along with the supremely talented Honey Wilder (as a private investigator whom Kevin hires) and a handful of bodacious babes, this flick delivers well not only in terms of its storyline, which is strong and well-acted...albeit fairly predictable, but also its sex, which is generally steamy and well-framed by the plot. James and Wilder act their parts well, and Seka is on fire. Desiree Cousteau, always a favorite of the era, makes an appearance, as well, in helping Seka handle the mammoth meat of John Holmes, and both Lysa Thatcher and Becky Savage add their feminine talents to the production, too. Fans of Seka, nostalgic nookie, and features will likely enjoy this quick, little number and will want to check it out.

In terms of the

sex

,

Scene One

has the brunette babe,

Becky Savage

, and the platinum blonde legend,

Seka

, taking care of Mike Eyke (...no relation to the candy...) in front of a fire at a set made up to be at a ski lodge. The two ladies fuck and suck him heartily, with the good times coming to a close with a hair conditioner "pop-shot". In

Scene Two

,

Seka

feigns a leg injury at a ski resort so that she and her bubbly, brunette friend,

Desiree Cousteau

, can get some action from the medic, John Holmes. And action they do get, as the legendary cock-slinger sticks it to both of the lovely ladies whilst they work over one another, as well. A double-facial closes out this super-sexy number.

Scene Three

finds the bossy, curly-haired blonde,

Cindy Shepard

, commanding her slave, Jack Mason, to satisfy her out back of an old mansion. He briefly fucks her until unloading on her tummy and bush. In

Scene Four

,

Seka

showers off, slips into some lacey lingerie, and meets up with her lover, Turk Lyon, as part of a scene that her husband is watching at his private investigator's (Honey Wilder's) office. Seka looks incredible here, as she does throughout, and takes Turk's cock orally and vaginally before beating him off on her face and chest.

Scene Five

once again finds Kevin James watching one of his missing wife's,

Seka

's, films, this time as she gets it on in a raunchy romp with Jamie Gillis and a fellow blonde (...though nowhere near as platinum...),

Lysa Thatcher

. Jamie gets into both of the young women in this one, ultimately dropping a load on Seka's face out of doggy with Thatcher. Both starlets lap at his cum and cock. In

Scene Six

,

Seka

and

Becky Savage

briefly lap at one another's labia in front of a Christmas-themed fireplace and presumably upon a film set.

Scene Seven

brings together the soft and sensual, brunette P.I.,

Honey Wilder

, and her client, Kevin James, for a romantic oral and vaginal romp that concludes with a spurting pop on Honey's chest and face. In

Scene Eight

, Honey gets Kevin onset to secretly see one of

Seka

's performances (an oral and vaginal affair with Paul Thomas) live. She ultimately sucks and jerks him to a hefty facial, all for hubby to see.

Scene Nine

pairs up Kevin James and

Honey Wilder

in another sensual coupling, this time at a picnic out in the woods. The two make the sweet love before the good times come to a close with Wilder blowing and jerking him to presumed pop-shot in her mouth. Hot and erotic stuff...all-around!