Taboo Charming Mother 02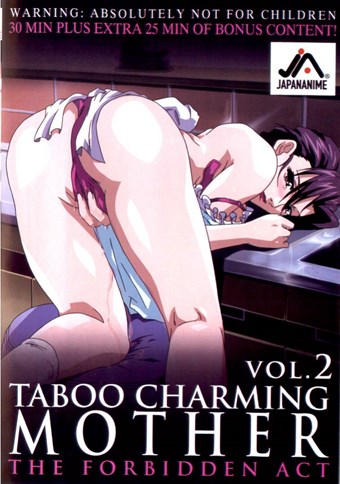 Orders over $50 receive 25% off plus FREE priority shipping!

This title is currently unavailable for purchase.
Performers
Director
Studio
Category
Details

Japananime

| | |
| --- | --- |
| Duration: | 1 hours |
| Date Added: | 05/21/12 |
| Production Year: | 2004 |
| Format: | DVD |
Reviewed by PeterNsd 12/14/08
The saga of the sex-starved MILF Misako continues. I love this series. In this episode the cat is out of the bag. Kazuhiko, her son, walks in during her afternoon toy session. He confesses his desires and forces his mother to give in to him by threatening to tell his dad about the toys and phone sessions with the perverted stranger.

Kazuhiko promises never to penetrate her but all else is up for grabs. They begin having sex on a constant basis under the nose of her clueless husband Yosuke. Now she doesn't need her phone partner anymore, she has her son. Unfortunately for her he knows about her forbidden affair and uses it to push her into more depravity. A gang of young boys shows up for some afternoon fun. They've been told that a hot MILF will give in to their every desire. Misako is ordered to become their sexual play toy. She begins to undress as the pack of sex curious boys waste no time and violate her body driving their tongues, fingers, and cocks into all her holes over and over again until she's covered in cum.

I really enjoyed this episode and hope to see all of them. Cartoons have never been this sexy. It gives new meaning to Saturday morning cartoons.

---
Reviewed by Macadamien 10/09/08
WOW!! That's the best way I can describe this DVD. It takes the greatest taboo of all (mother/son) and illistrates a story in japananime format. In its 30 minute running time I enjoyed the fact that it got right to the point, stay pretty hot and interesting throughout. For someone like me who isn't really a fan of japananime, I really enjoyed this DVD.