Cum Dumpsters 01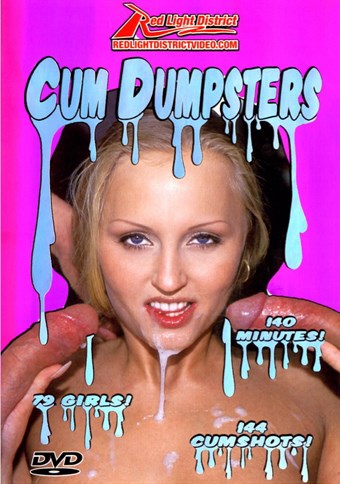 Orders over $65 receive 25% off plus FREE priority shipping!

Like New


(In sleeve no artwork)

$46.99
Reviewed by Jay 11/20/06
This is a hard and raw video devoid of sensitivity and sensuality. Some guys like it that way. If you like the Throat Gaggers series, you may like this.
Industry Reviews (4)
Reviewed by Saki 03/24/03
Source: AdultDVDTalk



Cum Dumpsters (2002) Studio
Red Light District / Vouyer Productions

Genre
Cumshot Compilation

Director
Vince Vouyer

Starring
79 girls and a whole lot of cocks

Running Time
2:18 (feature only)

DVD Format
Single Sided, Dual Layer (DVD-9)

Aspect Ratio
1.33:1 (full frame)

Special Features
Animated and full motion video main menu; FMV chapter selection menu; 27-picture hardcore photo gallery; 11.5-minutes of bonus footage; and trailers ...

---
Reviewed by ElwoodXXX 01/01/03
Source: AdultDVDTalk



I have to take exception to the standard review posted with this title. This is a "Dirty Ol Man" J.O. movie of excellence! No, it is not necessairly for a mixed couples "Intro to Porn", but for its intended use it is superlitive. One of my favorites, Monica Sweetheart is to die for, or at least to cum for, as are a couple of other great blondes a bit earlier in the flick.

Some cumshot movies are really too fast... Yes you want lots of action, but you want to at least "meet" the girl first. Cum Dumpsters gives just the right intro before moving the the finale. Yes, the prime reviewer is ...

---
Reviewed by CAPSULE 08/07/02
Source: AdultDVDTalk



CAPSULE'S REVIEW Cum Dumpsters (139 min.) Featuring: Various Synopsis: 144 cum-splattering scenes! Overall: If you haven't been exposed to Red Light District's work, this DVD will give you a sample of what they have to offer. Other than that, the DVD pretty much fails as a compilation. There are way too many "B" and "C" scenes mixed in with "A" scenes. I would have liked less scenes and more action. DVD Quality: Varies. Extras: RLD misadvertises the bonus scenes because these could have been included in the ...

---
Reviewed by BIGmike 07/28/02
Source: AdultDVDTalk



First let me start by saying how annoying it is to hear Wow, look at me, so much cum from a girl in the film (Belladonna), followed by Lexington Steeles moan (from another scene, the first actually), every fucking time you go to the main menu, or to another menu.

This compilation of cumshots stars 79 girls that have made appearances in various Red Light District films. The boxcover says that there are a total of 144 cumshots, I could either take their word for it, or I could count em all I think Ill take their word for it, it easier that way. All scenes are compiled from the Red Light ...