Ass Worship 05
(401)
| | |
| --- | --- |
| | Get it with a Free Trial! |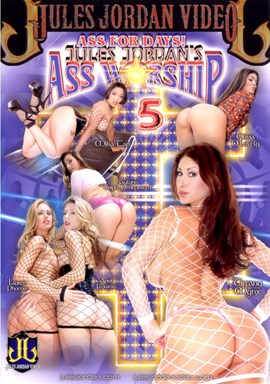 Performers
Director
Studio
Category
Duration (approximate)

Jules Jordan

Jules Jordan Video

156 minutes

Date Added:
01/26/2004
Production Year:
2004
Format:
DVD
Reviewed by Spook 09/13/07
Tiffany Mynx's opening scene is quite possibly the sexiest scene I've ever witnessed in an adult film, ever (and I've seen a LOT of porn)! Her ass is just magnificent. The money shot's kinda weird though, which diminishes it somewhat but it's still a must-see for ass lovers. Some elements of the film were a bit too much for my taste, like Kaylynn getting it on with three guys at once, but still any movie that puts Kaylynn, Tiffany Mynx, and Olivia O together deserves 5 stars no matter what. The bonus materials are nice too. There's an extension of Tiffany Mynx's scene there, including a much better cumshot.
Industry Reviews (6)
Reviewed by Steel69 01/02/05
Source: AdultDVDTalk



Ass For Days! Yes, I must say the fifth installment of Jules Ass Worship series is the best anal-themed adult film I have ever seen! All these really hot chicks got asses to die for, just look at Tiffany Minx on the front cover and you know what's waiting inside of the movie.

The movie starts with a hot ass show of Lauren Phoenix and April Flowers outside by a pool, than they walk slowly into an house with their eyecatching fish nets, they touch their beautiful asses each other and the show begins. This scene is my fave, because Lauren is getting really nasty in this scene (it seems like ...

---
Reviewed by phoenix1 07/21/04
Source: AdultDVDTalk



What I liked

Good cast. Some good names in this movie. Women with a lot of curves.

What I disliked

Not passionate enough

Thoughts in general

Movie fell short for me. One of the least intense Ass Worship titles out, but not by a lot. TIffany Mynx looked hot but she doesn't have the hard body she once did. I always wanted to see her with a bunch of guys. She is wearing a fishnet bodywrap and hot white platform shoes. Lots of curves. I really like her hair color now. She kind of runs out of steam for some reason. And they do her on a chair which is always a bad choice-there's no ...

---
Reviewed by picman 06/11/04
Source: AdultDVDTalk



Ass Worship 5 Prologue I will admit upfront that I like Jules Jordan's work. He shows women at their very best, objectifying them in a positive way. While his work may not have the sponaneity of other directors, he still seems to wring out some of the greatest performances from porn's most fetching stars. This volume of Ass Worship is a no brainer for me. All the women here have inspiring rears, the smallest belonging to April, and she doesn't have to make any apologies to anybody. The presence of Tiffany Mynx made this a must see. Let's see how it ...

---
Reviewed by Moonchimes 03/26/04
Source: AdultDVDTalk



Scene 1 - Lauren Phoenix (white woman) + April (white woman) + 1 one white guy
Interestingness of Location/Set: 2
Lighting: 9
Female Performer:
Facial Looks: Lauren 7, April - 9
Body Looks: both get a 6. (cottage cheese legs)
Sexiness: Lauren - 3, April - 7
Acting: Lauren - 4, April - 9
Male Performer:
Quality of dick: 7
Body: Acceptable
Aggressiveness of fucking: 7
Chemistry between actors: 7
Camera work: 8
Positions encountered: Lesbian play, oral stuff, reverse cowgirl vag, cowgirl anal, doggie vag and anal, sideways fuck, cum ...

---
Reviewed by VictoriO 02/10/04
Source: AdultDVDTalk



Ass Worship 5: Ass For Days (2003/2004, JJ/Evil Angel) Cast:

Mika Tan, Olivia O'Lovely, Kaylynn, April Flowers, Lauren Phoenix, Tiffany Mynx, Brian Pumper, Brett Rockman, Mark Wood, Jules Jordan, Toni Ribas & Trent Tesoro

Categories:

Anal, butt obsession, gonzo

Director:

Jules Jordan

Special features:

Fetish menu, extra footage, photo galleria, filmographies & biography

-I've been in awe of the Ass Worship series and I have enjoyed many things about the series (I have yet to see "Ass Worship 3"). The last installation, "Ass Worship 4", had a ...

---
Reviewed by Coyote22 01/30/04
Source: AdultDVDTalk



Jules has out done himself with his newest Ass Worship video..NUMBER 5!!! This things is what it's all about..ASSES.. and there are nothing but round, plump ones here!!

THOUGHTS:
I haven't really seen anything that has made me want to post a review, however after watching this film I must say that I am very impressed. I have grown to like Jules Jordan for quite some time now, especially the Ass Worship series. Like its predecessor(s), Ass Worship 5 deals with female ass's and doing plenty of things to them. Beings this is my first post, I will try to give a good idea of what this ...