World Famous Tits 13
(29)
| | |
| --- | --- |
| | Get it with a Free Trial! |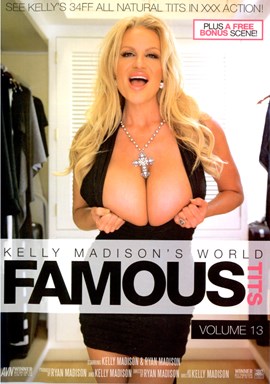 There are currently no member reviews. Be the first to review this title.
Industry Reviews (1)
Reviewed by jayo 12/16/17
Source: AdultDVDTalk



Kelly Madison's World Famous Tits: Vol.13

Studio: PornFildelity

Starring: Kelly Madison, Ryan Madison

Length: 1 hour 40 minutes(Disc 1)
unknown(Disc 2)

This isn't going to be a long review. If you're familiar with Kelly Madison's World Famous Tits series, or even if you're familiar with other things Kelly Madison appears in, you'll find this very familiar. You've got Kelly Madison, a "mature," very busty blonde in a collection of scenes. In many she's alone so you get a lot of posing and stylized masturbation. In some she fucks her real-life husband Ryan. In the bonus scene she's in a 3some with Ryan and another woman.

As with other Kelly Madison titles, this one is very well done. The picture and audio is bright, clean and clear. There's very little annoying music. There's no story or plot other than what's necessary to set the situation for each scene. There are plenty of chapter stops and the whole thing looks like it was made by people who would actually buy their own product. If you want a good argument about what DVDs can offer that's lacking on the internet tube sites, Kelly Madison DVDs are it.

The Real Life with Kelly Madison: blowjob and sex with Ryan on an upstairs landing in a house.
Wooly Bully Boobies: wearing a wool sweater that comes off; mostly posing and some masturbation.
Thanksgiving Cuntry Pie: Kelly with a cowboy hat, pitchfork and hay bales; mainly posing and masturbation
Phone Affair: Kelly masturbating while talking on the phone.
Latex Lust: Kelly in black latex suit and boots, kicking around black balloons; posing and masturbation
Cougar X-mas: Kelly in cougar-print lingerie and a santa hat; masturbation with the help of a hand from someone off camera.
Extras:

Behind the Scenes with Kelly
Photo Gallery and BTS Photo Gallery
Bonus Scene: "Crazy Unwrapped" threesome with Ryan and a pornstar I don't recognize.
Now Available and Commercials

I'll be honest up front and tell you that I've had this for awhile before I finally got around to writing this review, and I've misplaced the Bonus disc, so I can't review it. If it's like the previous editions in this series, it's got another 90 minutes to 2 hours of scenes of all kinds, many of them are as good, sometimes possibly better, than what's on Disc 1.

Kelly Madison is well into the "mature" category, so the key to this is: Kelly really has to ring your bells if you want to like this, because other than the scene with Ryan and the three-some, it's all Kelly and nobody else. She still has fabulous boobs and the energy of performers who are half her age. But Kelly's not for everyone.

That said, it's a quality collection of scenes on a well produced DVD set. If you like Kelly, World Famous Tits 13 belongs in your collection.