Red Headed Stepdaughter
(26)
| | |
| --- | --- |
| | Get it with a Free Trial! |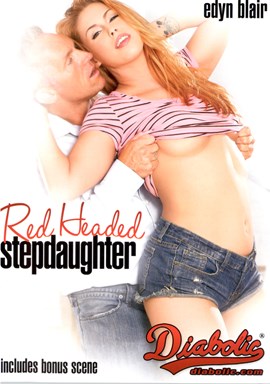 Performers
Director
Studio
Category
Duration (approximate)

Diabolic

120 minutes

Date Added:
11/03/2015
Production Year:
2015
Format:
DVD
There are currently no member reviews. Be the first to review this title.
Industry Reviews (1)
Reviewed by Rosco Fuji 01/28/17
Source: AdultDVDTalk



Red Headed Step Daughter from Diabolic brings 2 favorite porn concepts together in a mash up that combines fauxcest and gingers. What?s not to like?

Overall Synopsis: There's something about redheads that drives a man wild! Then add the fact that she's the step-daughter to that scenario and you've got a recipe for a smokin' hot hardcore fantasy! Forbidden fruit always tastes sweeter, especially with a fiery hot redhead!

Company website and Release page

Extras: Photos, Popshots, Trailers, Bonus scene.

Kierra Wild: Never head of this ginger babe before, but she has 14 credits with a couple of gangbangs tossed in for good measure. After the setup she?s quickly on her knees smoking the bone of the douche guy in front of her. How?s he a douche? Completely shaved head, but has a beard and mustache. Really dude. Anyway, we get a couple of nice stringers hanging from Kierra?s tongue. They move into spoon on the sofa and we?re treated to some daddy comments. A tasting break and it?s onto mish with some ?Am I better than mommy?? questions. Doggy, CG, and mish are next with some P2M in between. Kierra blows some bubbles with sack sauce that landed in her mouth. A quick fade out.

Edyn Blair: I?ve heard of Edyn before who?s been clocking in with 60+ scenes over the past 2 years. The set up is massage girl and massage guy, with dialogue that?s a hell of a lot better than most setups. Once the guy flips over onto his back, Eden goes to work on the joint under the towel with some nice hand and mouth work. The guy returns the favor on Eden?s bush covered twat. Mish comes first and then doggy followed by a little tasting from Eden. CG, a tasting, RCG shot from behind, and more CG are on tap. The guy puts his joy jizz right onto her tongue, she lets it run down her chin, and she gives a little PCH to wrap things up.

Lauren Phillips: Hot busty babe with a great rack. She?s been around for a couple of years now and has 40+ credits. I?ve seen her once before and she?s on my radar. The guy eats her out first before she takes the hint and she slobbers on his knob so he can slide it between her tits. More spittage leads right into CG, RCG, and spoon. Lovely Lauren laps love liquid, see what I did there, and swallows it down as we fade out.

Abbey Rain: Never heard of Abbey before, but she rings in with 18 titles under her belt. I usually don?t credit the guy in scenes; because let?s face it, who cares. But special shout out to Mark Wood for his slightly goofy persona that he portrays in scenes like this. Abbey gets her pussy licked and gives us some nice Daddy lines. They go into mish first then spoon. Abbey takes a break and smokes his fattie. They hit doggy next, CG, the then in RCG with tastings between each switch. Given the amount of daddies thrown about, it?s inevitable that we get a ?cum in my face daddy!? (Hey, it works for me) Abbey receives the sack sauce on her tongue and chin so she can digest it down before the fade.

Bonus scene: No intro is given, and I recognize the face, but can?t recall the name. We get some tease and go right into pussy eating by the guy, then into mish. She blows him, then CG. They 69 and it?s into spoon with some wide open shots of the chick?s full bush. They go into doggy next and finish up the fucking that way until the guy drops his load on her ass cheeks.

Pluses: Hot ginger babes whether real or fake bringing lots of ?Daddy? style talk to the table. Kierra asking if she?s better than mommy. Mark Wood in the last scene.

Minuses: Diabolic consistently doesn?t identify the girl or title in the bonus scene. Other than that, no real complaints.

Most Spankable Moment: Each girl has her moments, but I liked Kierra asking if she?s better than mommy. Daddy talk is always goo.

Sleaziness Factor (1-10): 6 for some of the daddy talk.

Is it worth it? If you like gingers doing fauxcest, definitely!