Evil Squirters 02
(33)
| | |
| --- | --- |
| | Get it with a Free Trial! |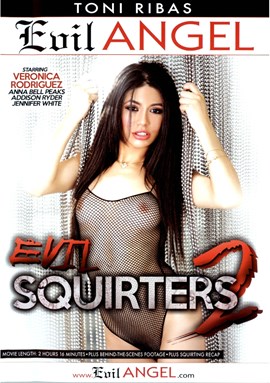 Performers
Director
Studio
Category
Duration (approximate)

Toni Ribas

Evil Angel

136 minutes

Date Added:
02/15/2016
Production Year:
2016
Format:
DVD
There are currently no member reviews. Be the first to review this title.
Industry Reviews (1)
Reviewed by Sean DPS 02/10/17
Source: AdultDVDTalk



Evil Squirters 2
Evil Angel
Directed by Toni Ribas
Date of Production
Running Time: 2:16:32


Starring:
Veronica Rodriguez
Anna Bell Peaks
Addison Ryder
Jennifer White
Mick Blue
Jessy Jones
Toni Ribas
Ramon Nomar


Special Features
Chapter Menu
Cast List
EvilAngel.com Preview
Behind the Scenes
Squirting Recap
Cumshot Recap
Filmographies
Trailers
Website


Anna Bell Peaks and Mick Blue (SPOTLIGHT SCENE)
A very nice introduction to our first lady, with some great shots of her body, including a few close ups thrown in. A little dirty talk as she begins to rub and play with her pussy, and soon enough we already have a little water works (little out of focus issue). There's a lot to love about this lady, an amazing body, some great tattoos and top it all off with the sexy hair as well, basically a great package all around. She gives the camera a little more dirty talk and then a full on water show, leaving puddles of fun on the couch. Mick joins in the fun, as they kick things off with a little tongue wrestling, before he's rubbing her pussy, prepping it to make it rain a little more perhaps. He slides in and gives her pussy a nice drilling and makes her beg as he slaps his cock against her pussy. She keeps begging for more as he continues to give her deep thrusts, throwing in a little throat grabbing to the mix, and I'm guessing from the noises and the squirting, she's enjoying it. She shows off her oral skills and then slide his cock in between her tits, cause why wouldn't you. The fun continues in various positions, with a little focus on her booty, and more showing off of her oral skills, with a nice sprinkling (see what I did there) of squirting. A long missionary session before he pulls out and lets the custard fly, as she gives his cock a few last licks and swallows to make sure she gets it all. But she isn't done as we get one last water show, dirty talk and she licks up the squirt before we fade to black on this one. Have to say we are starting things off on a good note for sure.


Addison Ryder and Jessy Jones
And our next little squirter is a newbie for me, but I'd say my interest is sparked with those eyes of hers and a pretty nice petite little body as well. The tease gets a little more intimate as the camera pans in closer, as she plays and teases her pussy, and of course a little dirty talk for the camera. She fires up some pussy strumming and we get a little tease of the upcoming water works. He enters the fun, getting very hands on with her, and then dives into the booty, giving her pussy a few licks, getting her purring a little. She offers a little oral love for his cock, and then climbs on for a little pole riding, which leads to a little squirt show. And as she commences booty show time, she's really getting into, like I a worried she's going to back into the camera. Seems like this little lady needs a little bit more to get the water works going, so I don't think we are going to be as wet as with Anna in the previous scene. She squats down and lets the water works begin before he drops a little custard on her.


Jennifer White and Toni Ribas
And next up we have the veteran Jennifer White, giving us a nice tease in her blue lingerie (slight out of focus issue again). A little time with her pussy, before she's playing with her boobs, giving us a few sexy glances into the camera. A little booty time, before she has a Hitachi and it's time to get things a little wet I think. The man behind the camera joins in the fun with Jennifer, giving her pussy a nice fingering, as we can see and hear a few traces of love. A little buzz from the broken Hitachi and a little finger banging, get the water works going a little bit. A little face fucking before he slides into her pussy, and she's got the Hitachi working it's magic as well. A nice booty show follows, some nice energy and height from Jennifer. Not much water works going on, so he's back to little finger banging which seems to bring us a little closer to the rain. A little missionary action and Hitachi before he blasts some custard, and then she uses the Hitachi to get a little water flow before this one is over.


Veronica and Ramon Nomar
And we are going to end with our lovely cover lady, Veronica who is well know for her squirt game, so I have some high expectations going into this one. We've had a few scenes that have been somewhat dry for a squirt movie, or perhaps Anna Bell Peaks set the bar too high. Well I have to say the tease section is making me feel pretty good about this one. A nice mix of slow motion and ramping up of the speed as he showcases her body in that sexy mesh one piece. Veronica lays down and goes to work on her pussy and folks we have some major water works going on. This little bit in the tease might be more than the previous two scene combined. She licks a little of it up before she finds a cock begging for some attention from her mouth. And even the oral work from Veronica has lots of spit involved. He gives her a little missionary session before she's drenching him in her squirt. She takes a seat on his cock for a nice reverse cowgirl session, some great energy and of course a few squirts from ole faithful too. She may be tiny, but as she hops and rides his cock, the camera moves in nice and tight, filling the screen with her booty, but luckily backs away as the water begins to flow. Some very nice chemistry between these two during some spoon action, and she keeps the good going with some oral work and a ride on the bucking bronco. He sets her down and gives her a nice blasting of custard in her wide open mouth, offering a few last licks and swallows, before he's fingering her pussy for a water works finale.


Overall Thoughts
Well I have to say that basically this one began and ended on a high note, with the middle scenes leaving you a little thirsty (let's see how many water jokes I can make). Other than a few little focus issues, I have to say that I really enjoyed the look of the tease portions. And who ends up walking away with the spotlight scene of this one, I'd say it's a close match up between Anna and Veronica, but I am going to give the edge to Anna Bell, but like I said both are worthy of your viewing. I have another installment of this series in my pile to review, looking forward to seeing how they compare.