My Teenage Stepdaughter
(14)
| | |
| --- | --- |
| | Get it with a Free Trial! |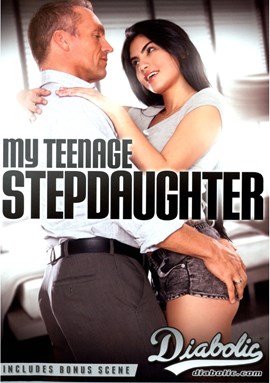 Performers
Director
Studio
Category
Duration (approximate)

Diabolic

120 minutes

Date Added:
04/19/2016
Production Year:
2016
Format:
DVD
There are currently no member reviews. Be the first to review this title.
Industry Reviews (1)
Reviewed by Rosco Fuji 01/28/17
Source: AdultDVDTalk



My Teenage Stepdaughter from Diabolic keeps the fauxcest genre going with Charlotte Cross and company in this 4 scene release. Charlotte Cross is superhot and kicks off the show. Let?s get to it!

Overall Synopsis: The family that's stuck together, fucks together! That's the motto in this almost-incest fantasy where that forbidden teenage stepdaughter is just too damn hot and horny to ignore! She's flaunting her tight little body and perfect tits, and he's got too much time on his hands ? that's when the perverted playtime begins! You won't want to miss this family fuck fest!

Company website and Release page

Extras: Popshots, trailers.

Charlotte Cross: This girl is so hot and at this point has 51 credits listed but I?m sure there are more out there. I?ve been smitten with her for a while now. She starts out getting ready for a shower and the guy comes in. Lots of daddy talk throughout as the guy goes to work on her puffy pussy. Char quickly gets on her knees and starts blowing the guy. Char starts fucking her daddy in RCG with us being treated to some very nice body shots and daddy talk. The mood is quickly ruined by the guy?s hand in the way before coming back around to just Char bouncing away. Open and closed spoon with a little too much of the guy in the way comes next. Char lightens the mood a bit by saying, ?I want to taste my pussy? as she gives a little P2M. CG is next with some nice ass shots of Char followed by mish. The guy pulls out and it looks as if he?s going to blast her mouth and tongue with his jizz, but he dribbles out a few drops that fall short of her tongue but do land on Char?s impressive set of squeezed together sweater kittens. She licks up the drippage, smiles, and we fade out. This babe is so hot.

Ziggy Star: Evidently; Ziggy, who doesn?t play guitar, hasn?t been doing her chores which is a better setup than the previous one and gets a spanking from her daddy. Ziggy is one cute little girl. Here are some of my comments the last time I reviewed her, ?I could really become addicted to this girl based on the opening of this scene where she?s staring into the camera with her hair down alone. Haven?t heard of Ziggy before, but she?s racked up roughly 36 credits in the past year or so.. There is nothing I don?t like about this girl Anyhoo, Ziggy counters the spanking by kissing the guy who returns the favor by a bit more spanking and continuing the punishment by licking her pussy. The guy serves up his ample rod right to her mouth with her head hanging over the edge of the bed. Ziggy gets pounded in doggy first, and then spoon with a little P2M in between. More tasting breaks and then it?s RCG for the Zigster who actually falls off the cock and climbs back on in CG. Ziggy is also quite the contortionist as she sits on the guys face and leans completely over backwards and sucks the guy?s cock at the same time. More RCG then mish with some daddy talk thrown in for good measure. The guy puts penis pudding directly on her pussy. Ziggy gives a taste and we fade.

Katy Kiss: Katy?s another small titted wonder who has the ginger look with a few tats that I like so much. She brings slightly less than 30 credits to the bench and starts this one off with getting her cooch licked from behind. She turns it around and starts blowing the guy and climbing on in CG and then doggy with a bit of tasting in the middle. Spoon follows both standing and on the sofa. Another tasting break and it?s into RCG, then mish. Katy baby birds it and is rewarded with gonad goo onto her tongue and lips. She gives a little PCH to close it out.

Michelle Martinez: I have no idea who this girl is as she only has about 20 credits and most are listed as content for websites. After the setup they move right into the guy licking her pussy for us. She starts in on blowing him and we get some nice close-ups of her face and mouth with a cock in it. They go into CG first and then move right into dog. A little P2M is up next with a spoon and mish chaser. Michelle?s cockpit gets covered with testicular tonic for the finale.

Pluses: The girls are sweet and they fuck on camera for our viewing pleasure. I like how Charlotte licks up the baby batter. Ziggy?s contortionist moves. Nary a pube amongst them.

Minuses: The guy is Charlotte?s scene can?t stay out of the way. Without a bonus scene in the extras, a 4 scene release is a little short. Extras are a little light.

Most Spankable Moment: All of the girls are worthy of a load launching.

Sleaziness Factor (1-10): 5 as this is a middle of the road fuckfest

Is it worth it? Definitely for the girls offered, but a 5th scene could have been included.