Stepdaughter Swap
(14)
| | |
| --- | --- |
| | Get it with a Free Trial! |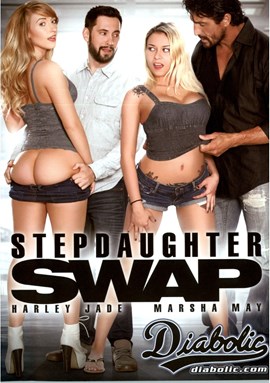 Performers
Director
Studio
Category
Duration (approximate)

Diabolic

120 minutes

Date Added:
06/30/2016
Production Year:
2016
Format:
DVD
There are currently no member reviews. Be the first to review this title.
Industry Reviews (1)
Reviewed by Rosco Fuji 01/28/17
Source: AdultDVDTalk



Step Daughter Swap from Diabolic more or less says it all in the title. Read on!

Overall Synopsis: These horny families have been lusting after each other with hot fantasies about sucking and fucking, but now they?re really gonna do it ? and what better way to start than swapping step-daughters! The girls have been dreaming about their neighbor?s step-daddies and now they get to show them everything they?ve learned about how to make a hardcore dream cum true!

Company website and Release page

Extras: Bonus scene and popshots

Katy Kiss: Katy brings about 25 credits to the party as she starts in kissing the guy. Katy?s pale ginger look is real appealing as the guy goes down on her. Speaking of the guy, someone really should clue him in on tat placement. The go into doggy for a moment and then Katy takes his cock deep into her mouth. Back to doggy, then spoon and CG, followed by some nice P2M. More spoon shows off Katy?s full red bush. Mish/side saddle closes out the fucking. The guy strokes off his cock and in theory gives Katy one maybe two drops of cum at best. I?m not sure if this guy is into girls or not.

Charlotte Cross: Charlotte is a major piece of ass and I?ve been in love with her since I first saw her. At the current time, she has 50+ listed credits. She gets her pussy licked first and then gives the guy some deep head followed by her tits being fucked. Spoon is up first, P2M, then CG. They spin around into doggy and mish next. Charlotte?s spectacular right breast received the lion?s share of testicular tonic from the guy.

Harley Jade: I?ve never seen Harley before by she?s a cute blonde with close to 35 credits. She gets her pussy opened up by the guy as she twerks in his face. She guides the guy?s cock into her while she?s in mish and then side saddle. The guy is a little annoying while she?s giving him head with him providing constant chatter and playing with her head. STFU guy! Harley rides in CG and RCG next with P2M in between. Side saddle follows until the guy pulls out and strokes his load onto her upper pussy region. I hope he director smacks this guy for being annoying in this scene.

Marsha May: Just under a 100 credits for this little fuck bunny with a banging body. I can?t agree with her lower ink though. The guy licks her pussy first before pulling out his cock for her to suck. She asks him, ?Am I a slutty little girl or what?? and between mouthfuls of cock, ?Are you going to tell my step daddy how slutty I am so he fucks me too?? Marsha rides the pork sword in CG first along with some P2M, then doggy. Side saddle follows for a bit, then a brief RCG and some mish until the guy delivers dick dew onto her face, mouth, and tongue.

Bonus scene: No identification provided on this scene. We have a cute blonde eating a banana and the set up is her nephew comes in to pick up some bagels because the chick sleep with her hubby?s brother. They move to the sofa and the chick dry humps the guy for a bit before offering up her tits. The guy goes down the bushed twat first and the chick gives head in return. The guy smacks her face with his cock several times. She gets the cock nice and wet in an extended session that includes a few stringers and plenty of hand action. She rides first in CG the RCG with a tasting in between. She gives us some ?I?m such a good little whore? comments while bouncing up and down. They go into mish and side saddle with P2M in between and finally while giving the guy more head she asks him, ?Will you jerk off all over my face? I want it!? She offers him some additional words of encouragement and he lets her have it at point black range into her mouth. She drools it out as the scene closes. This was a good scene.

Pluses: I love Charlotte?s puffy pussy and her spectacular rack. The girl in the bonus scene was top notch with the dialogue. Marsha is a nice little porn slut.

Minuses: The whiney lame dialogue the guys serve up as they try to fend off the girls advances. The guy not shutting up in Harley?s scene.

Most Spankable Moment: Anything with Charlotte is worthy of hand babies.

Sleaziness Factor (1-10): 7 for some of the dirty talk alone.

Is it worth it? Definitely as the girls play into the fauxcest thing quite nicely!