Spicing it Up
(29)
| | |
| --- | --- |
| | Get it with a Free Trial! |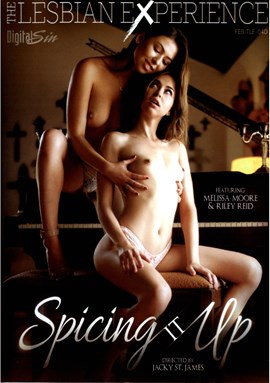 Performers
Director
Studio
Category
Duration (approximate)

Jacky St. James

Digital Sin

94 minutes

Date Added:
07/12/2016
Production Year:
2016
Format:
DVD
There are currently no member reviews. Be the first to review this title.
Industry Reviews (1)
Reviewed by bono-ONE 02/12/17
Source: AdultDVDTalk



Greetings porn fans. I wanted to say a few words on this Jacky St. James directed vehicle for Digital Sin that came out the middle of last year. Four scenes of girl on girl action so let's see what Jacky and crew came up for us.

Adria Rae & Marley Brinx:

The first scene opens with Marley and Adria already going at it but then Adria chimes in with excellent voice over work to lay out the scenario. The two have been in a relationship for awhile now but still have that "honeymoon" type feel because they drag out the time between orgasms, teasing the other, denying them the ultimate pleasure- but not in a bad way only to create the anticipation that when the final release comes it was well worth the wait. After several visual demonstrations of this we settle on for Orgasm Friday!! Marley and Adria come together on their bed and won't stop until both have been satisfied. Frantic kissing and touching ensues as they start losing bits of clothing. Adria is the first to move down to taste pussy and there is a good wide open shot for this bit of fun. As I mentioned both are looking to feel the ultimate satisfaction here so they switch it up so that Marley can go down on her girlfriend giving us another fine wide open pussy licking shot. Never a bad idea to work in a doggie style go in from behind shot to eat more kitty which is employed here. Seeing the two dabble in a little g/g ass licking was also a most welcome sight. Of course the two lovers hit a 69 shot too with Marley going up top which for me gave Adria the best view being on the bottom and having that ass right there in her face. Not a bad way to start this show off with this good scene.

Riley Reid & Melissa Moore:

On to the next scene which features two performers who know each other pretty well and we get a nice set up voice wise from Melissa who spells out the relationship Riley and she have, both the good times and the bad times which together help make their relationship work. It ends with Melissa coming home from a hard days work to find Riley waiting for her in the bath tub with a couple of glasses of wine ready. Tell me all about your day which is exactly what Melissa needed to hear. There was some conversation in between sips of wine and they began kissing one another and then playfully spilling the wine down their chests to lick it up! The scene progresses nicely to breast caressing and light touching down below, the promise of better things to come. Awesome to see Riley going behind Melissa to face dive into her and licking that ass real, real good. Miss Moore was more than ready to return the oral favors lightly kissing Riley's pussy lips before moving in to full on suck and taste them. Moving out of the tub they continue this stress unwinding with Riley and Melissa engaging in some pussy on pussy rubbing that led nicely to Melissa going behind her girlfriend to lick her ass, hell yeah!! I'd say Riley did a fine job making Melissa forget her hard day at work and they close it out sharing a cupcake!

Gina Valentina & Aidra Fox:

Moving right into the next scene we meet Gina and Aidra who use role playing as a way to keep their relationship working. The viewer is treated to a few quick snippets of one as a high powered attorney giving it to her inept assistant while another has a super bitchy celeb giving it to her maid who just can't seem to clean anything right. One day they get to play out a scenario while house sitting for Aidra's mom with both dressing up as Hollywood housewives who have terrible husbands so what better way to get back at them than to give each other a super hot orgasm. Lying back on the couch Gina still in her gold sequined dress pushes it up so Aidra can have full access to her pussy. As the two move along Gina loses the dress entirely revealing a super nice body. Aidra looks quite nice herself with that face still buried deep in Gina's snatch using her fingers too helping to make that kitty purr. Aidra then loses her dress giving Gina a chance to sample her breasts then going down on Miss Fox. Putting Gina into a pile driver position gave Aidra super hot access to licking both that pussy and ass as we observe from above. I will never tire of seeing a girl go behind to dip her face in as Gina does licking that ass along with Aidra's pussy-- a perfect open shot here for this hot action. A very good scene here.

Abby Cross & Blair Williams:

Finale time and we meet Abby and Blair who have been in a long term relation ship and make use of the art of seduction to keep their sex lives vibrant. These two also dabble in the art of BDSM and there is good visual representation of just how they do that. Blair is blind folded taking away her sight but then heightening her other senses especially touch which Abby plays on using a black vibrating toy on her pussy. Some fine shots of that plus Abby chimes in with a few choice words prompting Blair what to do. Miss Williams complies and enjoys the fruits of both their labor. From there it's a little light paddling along with Abby dipping her face in to taste Blair's pussy and ass. Keeping Blair blindfolded Abby sits up in front of her and there was no need for sight Blair found her way in between Abby's thighs to taste and finger her pussy. I appreciated, though, when Abby decided she wanted to see those pretty eyes so off goes the blind fold and Blair resumes the pussy licking and I think having those eyes look up while she does this was way hotter than not being able to see them. A very nice 69 then ensues with Abby on top and that ass is all over Blair's face and she ravenously attacks her girl friends pussy / ass, loved it. Towards the end they go pussy on pussy so the black hitachi can be brought back in to mutually please them as they grind together. A solid scene to close this show out.

Extras & final Thoughts:

This was another solid show from Jacky and Eddie Powell who shot camera. As for extras be sure and check out the BTS where Jacky enjoys a few words with the girls and I enjoy hearing from the girls and Jacky seems to get a kick at of chatting with her cast so I highly recommend checking this out. The majority of this release in terms of sex is toy free which is exactly what I like to see and the four couples here are amazing in how they connect with each other and that more than anything makes a scene successful which these four most certainly were.