Facialized 03
(33)
| | |
| --- | --- |
| | Get it with a Free Trial! |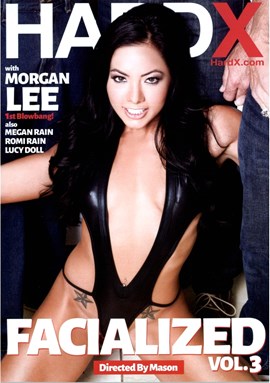 Performers
Director
Studio
Category
Duration (approximate)

Mason

Hard X

120 minutes

Date Added:
09/01/2016
Production Year:
2016
Format:
DVD
There are currently no member reviews. Be the first to review this title.
Industry Reviews (1)
Reviewed by Sean DPS 07/18/17
Source: AdultDVDTalk



Facialized Vol 3
HardX
Directed by Mason
Date of Production: 7/31/16
Running Time: 1:50:25


Starring:
Morgan Lee
Megan Rain
Romi Rain
Lucy Doll
Filthy Rich
Hunter
Bill Bailey
Jason Katana
Jon Jon Ramon Nomar
Rob Banks
Steven St Croix
Scott Lyons
Ike Diezel
Jake Jace
Chad Alva
Tony Martinez
Brad Hart
Wrex Oliver


Special Features:
Scene Selection
Behind the Scenes
Cumshots
Slideshow


Megan Rain vs 10 guys
This sexy and naughty looking school girl is ready to take on 10 cocks, and they can't wait to get some attention from her, as they quickly surround her and gets handsy with her, as the cocks begin to appear. As she falls to her knees, the circle of cocks seems to close in on her, making it easier for her to spread her love. Lots of spit and plenty of smiles from Megan as she makes her way around the cocks. They bend her over and give her booty a few smacks, and rub her pussy, before they get her naked, as she takes a seat on one o the guys, making sure her pussy is taken care of. A little teasing of some double stuffing of cocks in her mouth, before she ends up on all fours on the couch, gagging and moaning as she continues her cocks work, also some great face fucking as well. The magic Hitachi has made it's way into the scene, buzzing away at her pussy, as she tries to concentrate on the cocks. Glad to report that she doesn't seem to be slowing down one bit with the energy as the scene continues. With her head over the side of the couch, it's that time for some face fucking, as the spit and gag begin to mess up her face, in a good way. As a side note, kind of liking the reddish tint to her hair, can't tell if that's just some lighting or being next to the red couch. A little touch up of the make up, as she gets on her knees and the custard begins to coat her face, now is the part where we judge the blow bang, by the mess on her face when it's all done. And while her face is getting coated in cream, she's giving her pussy a nice strumming, making sure she gets to reach her happy place like they do. She wipes up the cum with her fingers, so she can enjoy the tasty treat, and even licks some that has landed on the floor. A nice start, we shall see how that plastering stacks up against the other three scenes.


Morgan Lee vs 10 guys
And next up is our lovely cover lady, and it seems like this is her first blow bang, and she's starting off with 10 guys right off the bat, kudos for going the extra mile for her first time. Enough build up with the interview, let's get going with the action. The guys seem to be a little more dominate with this lady, grabbing and groping, along with some throat grabbing before she gets on her knees and makes her way around the circle of cocks. She mentioned having some great energy in her scenes, and she was telling the truth. Lots of head banging, that would make any metal head proud, as she deep throats the cock. She lets out a few moans of delight as she sits on one of the guys, but is muffled as two cocks make their way into her mouth. As she leans her head over the side of the couch, we get a little gagging as they shove their cocks deep into her mouth, tickling the back of her throat. No Hitachi for this lady, they got a twisted black dildo for her pussy, making her cum for them. It looks like she might cum as many times as the guys are going to the end of this one, kudos to the guys for making sure she gets satisfied too. She makes her way up and down the line of cocks before the custard begins to coat her face. She adds some ball draining dirty talk as they continue to plaster her face in love custard. And early on, it seems like this group is packing more custard, looks like Morgan will be in the lead with two scenes to go. The Hitachi is here to buzz away at her pussy, while she continues to get creamed on her face, even Mason seems impressed. She wipes away the cum from her eyes, so she can see her face. Will say that Megan licking the cum off the floor was missed in this one.


Lucy Doll vs 6 guys
Well we have another blow bang virgin up next, and Lucy is going to meet us a little half way with 6 guys in this scene. She's all smiles during the interview so that's a good sign, and leaves us with a "bring on the cum" before the action begins. She's already on her knees, in her sexy school girl outfit, hard at work, as she makes her way around the circle of dicks. And she's not going to forget about the balls either. They help her get out of those clothes, and she takes a seat on a face, as she continues her tour of cocks. She leans over and gives us a great gagging session on a cock, before they head over to the couch, as she begs for them to keep her pussy entertained. She keeps sprinkling in the dirty talk with that little voice of hers. As she is bent over, she's getting both of her holes licked, while her mouth is busy with cocks, as the spit drips from her mouth. I will say that when they are working over her pussy with their mouths and toys, she seems to be less focused on the cocks, she's caught up in the moment. As she leans her head over the side, she's back to gagging on some cocks, and letting the spit build up on her face. Back on her knees, and back to all about the cocks, as she warms them up before the custard begins to fly, let's see how this one ends. With only 6 guys, she's at a disadvantage, but let's see what these guys can do. Well the two guys almost crossing streams are helping her out. But it looks like it's going to be Morgan at #1, with Megan in second, and Lucy in third, where is Romi going to fit in those rankings. But she's all smiles and giggles either way.


Romi Rain vs 10 guys
The sexy Romi Rain is going to bring this one to an end. First time was with 5, and now she's going to hit the 10 count. She loves giving the sloppy and wet kind of BJs, so I have a feeling I am going to like how this scene is going to turn out. And after a little explanation of her ideal scene and outcome, it's time for the hot dog eating contest to begin. 2 cocks getting attention with her mouth and hands, while one is enjoying some time in between her tits, another advantage to having big boobs. Much like Morgan, she's showcasing some great energy right off the bat. Another thing I love about Romi, is her dirty talk that she throws in when her mouth isn't full of cock. She might be surrounded by 10 cocks, but she's still in charge as she slides one of the guys under her pussy. Jon Jon picks her up, and sets her on the couch, and as she leans over the side, it's time for some spit and gag to cover that face, and make it messy like she likes. A shiny silver toy is here to give her pussy a little more attention as her mouth and hands continue to be busy. Another nice titty fucking session, as she arches back to find a cock waiting for her mouth. They bust out the Hitachi and some finger banging to get her to squirt a little, and then let it drip on her face. She's getting messy, but not quite as messy as I was expecting, let's see what the custard does to her. On her knees, as she sprinkles in some dirty talk as she begs for their cum, and it's not long before they are sprinkling their custard on her face. They started off strong, but a few duds, before she gets some proper creaming.


Overall Thoughts
I am once again back in the AVN nominations pile of movies, and this time it's a journey into the world of blow bangs, from Mason and Hard X. And the final unofficial official rankings of this movie are: Morgan in the lead, with Megan at a close second over Romi in third, with Lucy coming in fourth. I guess that is why Morgan was on the cover of this one, perhaps Mason agreed with me.