After School Slut Club 04
(23)
| | |
| --- | --- |
| | Get it with a Free Trial! |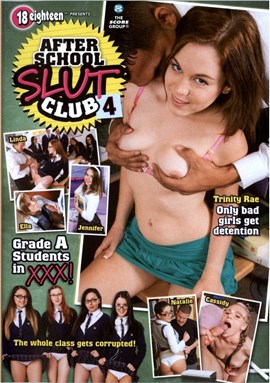 Performers
Director
Studio
Category
Duration (approximate)

Score

120 minutes

Date Added:
10/09/2016
Production Year:
2016
Format:
DVD
There are currently no member reviews. Be the first to review this title.
Industry Reviews (1)
Reviewed by Dawg69 01/24/17
Source: AdultDVDTalk



No other Studio delivers on this type Genre better then 'Scores'. This release is another proof of that.

Scene 1 (2 of 5 Stars): Opening scene is sort of goofy. Scene starts off in a classroom setting with Porn Vet George Uhl playing a Teacher. Room is full of unflattered Students when Linda Sweet is taught a lesson. George fucks her in front of the entire student body. Lackluster fuck.

Scene 2 (5 of 5 Stars): Trinity Rae is walking down street, sporting youthful attire and a school backpack. She is spotted by a Latino Truancy Officer. He transports her back to his office where hot Trinity offers herself in return for his silence. Note: Just watching Miss Rae in her attire is enough to get you off. Dam, that chick is so tiny and slender. Latino dude whips our a descent sized schlong and really fucks her hard. Funny, dude never takes off his pants, just has his pecker exposed from the zipper (this actually worked well for this scene). Scene ends with a face shot to Miss Rae's youthful whore face!

Scene 3 (3 of 5 Stars): Jennifer Bliss is studying in her room. She is youthful and sporting dorky glasses. Some guy walks in and starts massaging her buttocks. She takes off her glasses and starts to service his smallish pecker (she should have kept glasses on!) OK scene, but could have been way better had she kept her glasses on and if they'd have gotten a guy with better dick!

Scene 4 (3 of 5 Stars): Jessie Young is sporting dorky/Band-Aid taped glasses. Dude is helping her study and she gets frisky. Jessie sporting very hot tiny panties, which added nicely to the fantasy. However, once all the clothes and glasses came off, it was just a very average scene.

Scene 5 (2.5 of 5 Stars): Natalie Monroe is in library. Dude walks in and action almost immediately starts off! Wasn't he same dude from previous scene? Anyway, just an OK scene.

Scene 6 (2 of 5 Stars): Ella Woods is in classroom when she gets fucked by a classmate. Nothing special here!

PROS: Trinity Rae!
CONS: Not enough Trinity Rae!!!