Race Relations 10
(20)
| | |
| --- | --- |
| | Get it with a Free Trial! |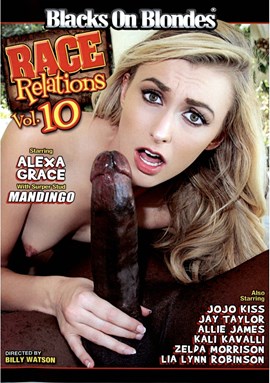 Performers
Director
Studio
Category
Duration (approximate)

Billy Watson

Blacks on Blondes

120 minutes

Date Added:
12/26/2016
Production Year:
2016
Format:
DVD
There are currently no member reviews. Be the first to review this title.
Industry Reviews (1)
Reviewed by Dawg69 01/29/17
Source: AdultDVDTalk



Scene 1 (3.5 of 5 Stars): Alexa Grace opens things up by taking on Mandingo. Mr. Brown sporting a belly nowadays and certainly not as rock-hard down there as he used to be. Still, Miss Grace's youth, beauty and slender body is hot to see. She services his tool with gusto, including balls-munching. Mandingo fucks her adequately, but fact he is not as hard as he used to get, took away from scene a bit. Scene ends with Mr. Brown depositing a generous glob of jizz onto Miss Grace's tongue, which gets consumed nicely!

Scene 2 (3 of 5 Stars): Jay Taylor takes on Rob Piper. Miss Taylor sporting dorky glasses and looking innocently coy. Had Rob sported a bigger and harder boner, this scene would have been awesome.

Scene 3 (4 of 5 Stars): Zelda Morrison & JoJo Kiss take on Moe Johnson and some other unknown Brotha. Both girls sporting cheerleader attire and both looking wickedly innocent. Jojo the aggressor here and convinces Blonde Zelda to try out some black cock. Once the fun officially starts, both girls turn to nasty sluts, sucking, slurping, munching cocks and balls. Both Brothas do a nice job fucking the shit out of both girls, taking turns. Scene ends with brothas dropping their loads onto each gorgeous girls' faces, with a bit of cum sharing. Nice scene!

Scene 4 (3.5 of 5 Stars): Kali Kavalli takes on Charlie Mac. Similar to scene 1, Charlie (like Mandingo) not sporting his usual mega-cock. Descent scene, but wish Brothas with take some dam Viagra! Don't get me wrong, both Charlie and Mandingo have some big cocks. However, when 100% erect, those things resemble tree-trunks. Nothing hotter then seeing a slender white whore getting pounded by enormous black cock.

Scene 5 (4.5 of 5 Stars): Allie James makes a brief appearance with Lia Lynn Robinson. Suddenly, Allie disappears and is forced to fend for herself against retard-looking Jon-Jon. I have never been a fan of Jon-Jon as his looks resemble Howard Stern's "Beetlejuice". However, this was the hottest scene here!!! Man, Jon Jon sporting a nice big boner and really pounds petite, slender Lia nicely. Dam, Lia is really into this scene and she sits on Jon Jon's boner and really thrusts up & down his shaft with fury (hot!)

PROS: Alexa Grace swallowing a nice glob of Mandingo jizz was hot! Last scene with Lia Lynn Robinson was best scene here!

CONS: Blacks on Blondes Studios needs to have the Brothas consume some Viagra to ensure they're all super rock hard!