My Girl Loves Anal 06
(16)
| | |
| --- | --- |
| | Get it with a Free Trial! |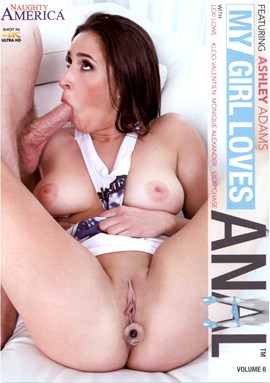 Performers
Director
Studio
Category
Duration (approximate)

Naughty America

125 minutes

Date Added:
01/13/2017
Production Year:
2016
Format:
DVD
There are currently no member reviews. Be the first to review this title.
Industry Reviews (1)
Reviewed by Sean DPS 02/07/17
Source: AdultDVDTalk



My Girl Loves Anal Vol 6
Naughty America/Pure Play Media
Directed by
Date of Production: Released March-August 2016
Running Time:


Starring:
Ashley Adams
Lexi Lowe
Kleio Valentien
Monique Alexander
Vicki Chase
Levi Cash
Preston Parker
Mark Wood
Johnny Castle


Special Features:
Chapters
Slideshow
Trailers
Adriana Chechik Interview


Ashley and Levi (SPOTLIGHT SCENE)(31:39)
She's a little new to the anal game, but perhaps the butt plug she bought will ease things in, if you know what I mean. She lathers the plug up with her spit, and then slowly slides it into her booty hole, while giving her pussy a few strums. There seems to be someone lurking in the shadows, who can hear her excitement as she speeds things up. He sneaks in and enjoys the show, but she gets a little embarrassed and stops. She lays on her side and lets him play with the butt plug, sliding it in and out. A little finger action, before he slides his cock into her ass. She gives her pussy some strumming and fingering as the anal continues. He gives her pussy a little drilling before he's back to her booty hole. She follows up with some nice cock swallowing, before she takes a seat on his cock and rides and grinds on him. She really gets into it as the anal action is back. He mounts her in some deep ball slapping doggy, spending some time in both holes, and then leading up to some booty show, as her ass and pussy continue to get drilled. Seem to lose some of that energy that we had at the beginning of this one. She gives his cock a little more oral love before he gives her face a few shots of custard.


Lexi and Preston (30:34)
It seems they might have found their dream home, they might be enjoying the view, but Lexi in that skin tight blue dress might be keeping most of your attention right now. She's getting a little frisky, but he wants to continue on and check out the place. To sweeten the deal for him, if he gets the new house, she's going to let him fuck her in the ass. She lays him down and offers a little dirty talk as she pulls out his cock and wraps her mouth around it. Some nice oral work, and of course a little titty fucking follows with those big tits. And her oral love continues as she takes a seat on his face for some 69 action. This one seems to be taking a little longer to get to the anal fun. Lexi climbs on for a little cock riding, which seems a little awkward at first, they both seem to want to lead the dance. He does finally reach around and give her booty hole a little teasing with his fingers. And as we reach the 21 minute mark in a 30 minute scene, he finally slides in for some anal action, with a little spoon action, as she lets out a few shrieks. Things get a little better during some doggy action, which leads to some missionary and some heavy pussy strumming from Lexi. Well he does pull out and give her body and chest a nice blasting of custard, might be a little too late on this one though.


Kleio and Mark (31:05)
When Tinder works and you get a guy who loves anal as much as you do. She's decked out in some sexy lingerie and stocking, and dear god that body of hers, even if you don't like tattoos, you gotta admit she's freaking hot. She crawls to him and slides off his pants, and goes to work on his cock. Some great energy. long licks with her tongue and some love for his balls as her oral appreciation continues. Kleio lays back and gets a little pussy licking, as the kitty begins to moan with delight. He teases her pussy before sliding in for a little missionary fun, and it's awesome to see that great smile from Kleio, always adds a little something extra to her scene, much like Aidra Fox and Anya Olsen. A nice booty show follows, as she hops on his cock, and Mark does a nice job of picking up the pace, and she keeps up nicely. She works her tongue around his cock, and then bends over, as he dives into her booty, and then slowly slides his cock into her ass (at about the 15 minute mark of a 31 minute scene, just for reference). A long doggy session as she continues to look back and flash that smile at him. And the good news after the previous scene, is that once the anal gets going, it's pretty much the only thing until he pulls out and gives her mouth a little custard treat, and she's going to make sure and get every last drop.


Monique and Johnny (26:10)
She's been out spending lots of his money, but I think her energy and teasing of the booty, might make things a little better. She's got a new outfit that she is sure is going to make him happy, and I'd say yes. She lets him take it all in, and then gets a little closer, as he dives into her booty. She lets out a few moans, as he slides in for a little doggy action. She offers some oral appreciation before the doggy is back on. For the foot fetish people, he offer some love to her feet as she's working over his cock again. A booty show follows, as she gets some nice height and shows some great energy. He dives his tongue into her ass (16 min mark of a 26 minute scene), and then slowly slides in during some spoon fun. Monique gets a little vocal as she reaches her happy place as the anal continues. The anal continues in some missionary action before he leaves a nice custard frosting in and around her mouth.


Vicki and Johnny (31:51)
She quietly sneaks into bed with him, but he seems to be lost in dream land. Well that's not going to stop Vicki, who has a little toy she ready to play with. She lubes it up and then slides it into her booty hole. Seems like we are going to end this the same way we started this one. She lays back and gives her pussy a strumming while shoving the butt plug in and out. He wakes up and likes what he sees, leans over and gives her pussy some attention, and then Vicki is hard at work on his cock, as the butt plug continues to go in and out, talk about multi-tasking. She gets a little vocal as he starts off with some missionary action in her pussy before she's back to showing off her oral skills that we love. And another thing we love, a nice booty show, and she's bringing that to the party too, as she dances on his cock. The anal seems to take a back seat for awhile, as he focuses on her pussy, a little finger banging to keep her nice and wet. And when the anal finally begins, there is some immediate cream lubing up his cock. A nice doggy session as the anal continues, followed by a few more positions and then pulls out and covers her holes in his cream, which puts a huge smile on Vicki's face.


Overall Thoughts
Another collection from Naughty America to review, and thankfully these were scenes that were released last year. I will say that if you are a fan of anal, and I am guessing you are since you're reading this review, the opening scene has plenty of bang for your buck, more anal per minute than the other scenes in this collection. And perhaps that is also why she graces the cover as well. But the other ladies are nothing to pass on either, as they have some anal moments that should put you in the mood.