Young and Beautiful 02
(57)
| | |
| --- | --- |
| | Get it with a Free Trial! |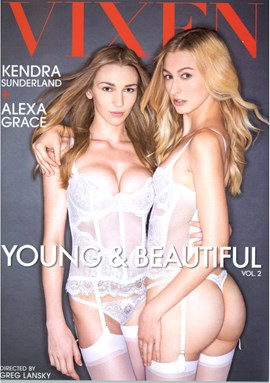 Performers
Director
Studio
Category
Duration (approximate)

Greg Lansky

Vixen.com

162 minutes

Date Added:
01/16/2017
Production Year:
2016
Format:
DVD
There are currently no member reviews. Be the first to review this title.
Industry Reviews (1)
Reviewed by bono-ONE 01/29/17
Source: AdultDVDTalk



Time to check out the latest release from the good folks at Vixen who just finished off a very successful show in Vegas for the big annual porn convention/ awards. In this release they feature one of those girls Kendra Sunderland who was there every day to greet the fans and show off her awesome rockin' natural tits. Truly looking at the cast here calling this show Young & Beautiful seems like a most apt title. A few highlights.

Kendra Sunderland & Alexa Grace with Jean Val Jean:

The opening scene begins with Kendra out for a leisurely bike ride while chiming in with a voice over laying out the scenario for the scene about to unfold. Her boyfriend is a perv, her parents are out of town and she wants to do something special for him. A fantasy of his and frankly millions of guys is to enjoy a threesome with their girl and another hottie. Kendra sets about making this happen while also offering up glorious eye candy in terms of those fantastic boobs which were just begging to be set free from the tight white shirt she wore. Alexa is then brought in and she's Kendra's best bud so you know she's down for anything. Cut to the final event where Jean is blindfolded and this allows Alexa to join in and she's the one who starts sucking Jean's cock first but he's unaware for the moment that it's not Kendra who chimes in with a few words. Jean can't stand the pleasure any more and wants to watch his girl suck him off and hello he sees that it's Alexa when removing the blindfold. He was most pleased and we continue on now with both ladies getting a taste of Jean's cock. They spend the next few minutes taking good care of Jean including some hot POV shared knob polishing. Greg zooms in close here at one point and damn the shot of those four eyes looking right up into camera as they suck cock 'n' balls was amazing. Jean gives some oral love too and the ladies start to play with each other here some as well. Jean starts laying pipe then to the these two gorgeous ladies and we do see some P2OGM here too. A big winning shot occurs when Kendra is being nailed from behind and Alexa hovers over licking her ass plus tasting his cock fresh from her pussy. The scene ends with Jean cumming to both open mouths and the girls then swapping cum kisses. Excellent scene to start us off.

Sydney Cole & Xander Corvus:

The next scene opens with a nice close shot of Sydney's face. From there a pan out to bring in her entire body and you see that she's topless and wearing a sexy thong which shows off pretty much her entire ass. The gist here is Sydney's living with her step brother and you can guess what happens from there, lol. Of course she "fights" his perv advances! Events then happen which cause her to change her thought-- a cheating boyfriend will do that. Xander of course offers to console step sis and what better way than to offer up his hard cock! It doesn't take long for Sydney to go along and out pops his cock and right into her mouth for some fine head including real nice eye contact and ball play. Xander then brings in his cell to take some real close POV footage and Sydney takes the phone to send a still frame to her cheating boy friend-- take that! Sex wise they open in cowgirl and Greg gets the camera in a perfect position right behind Sydney to take in that pretty ass and teasing ass hole. Good to see that Miss Cole was down for P2M before changing positions facing out now with those titties. They hit a couple more positions until Xander was ready to cum and he decides to really stick it to the asshole boyfriend by cumming inside Sydney's pussy. Pulling out you see some jizz follow. I don't think the boyfriend will be going down on her anytime soon!

Veronica Rodriguez & Christian Clay:

The third scene begins with some sexy shots of Veronica lying on a bed wearing tight fitting underwear that covers part of her ass but leaves more than enough cheekage showing to get your cock going in the right direction! She tells us about where she's from and how she's staying here in the US with a family. As her narrative unfolds we learn of the mutual attraction between Veronica and Christian which culminates with the two giving in to those desires one day while out for a walk. This was a road less traveled so it afforded Veronica ample time to drop down and take that cock into her mouth which she does with fantastic energy. They were in a shaded area too so the head isn't fighting with any sunlight to distract us from the hot visual. There is some standing fucking here too which ends up yielding an awesome squirting climax from Veronica's pussy. Super hot and WET!! Christian goes back in for a few more pumps before pulling out and cumming to Veronica's open mouth. Clean up and cum bubbles! But wait they weren't done yet so we get a second encounter which occurs on another day when the wife steps out. Veronica wearing a nice grey outfit here. Quickly she's down on her knees taking Christian back into her mouth offering great eye contact. As the blowjob unfolds Veronica makes good use of her spit to natural lube that cock up for her kitty. Christian returns the oral favors licking both holes too before sliding in to fuck this sexy lady. Fantastic looking cowgirl here with a spot on view of Veronica's teasing ass hole and you see that ass has quite a bounce to it while riding Christian here. After the run in cowgirl they flip over to reverse for another long stretch including multiple P2M clean offs from Veronica. This scene ends with the pop to Veronica's waiting tongue with some dripping off her chin while she blows cum bubbles and gives clean up. Now that's a way to welcome someone to America-- are you watching Trump- I bet you are!

Mia Malkova & Charles Dera:

The finale opens with somber piano music as we head out to the pool where Mia's enjoying a swim while filling us in. Turns out she needs to offset some financial concerns by renting out a room and as it turns out some of these rentees were hot guys- the music also has changed to a more positive vibe. Mia lets it slip that she did give in and had sex with a few of them! Mia started to get this rental thing down to an exact science. See who wants the room, do a little research while we get to watch her show her amazing body especially that perfect bubble ass!!! Her latest victim, lol, was Charles and she doesn't waste any time walking over to him and climbing onto his lap- wearing sexy white lace! A good ice breaker for sure kissing him then leading Charles up stairs where we get the two naked and Mia taking charge working down to tease 'n' his cock. Mia does an excellent job making sure Charles was ready to "sign" his lease by filling first her mouth and then her pussy with his pen! It took a couple of positions but they make it to cowgirl and yeah the view was totally amazing with some sexy close ups on that teasing ass hole. A mish finish helps seal the deal as we have the last bit of business taken care of when Charles drops his load onto Mia's face and she makes sure to suck out the last few drops. Welcome to the house!

Final Thoughts:

This was another solid release from Greg Lansky and the Vixen crew. Five gorgeous girls here enjoying some hard cock and in the first scene some pussy as well. The set ups were short and very easy to follow along with then the sex comes in and sustains the momentum throughout. The extras are sparse as per usual for a Vixen release but you can revisit the pops and there is a photo gallery as well. The main title will make or break this one in terms of success and I would think it goes very well judging from the content captured and presented here. Pretty girls, clear pictures, great sound quality-- spells success to me.