Black and White 08
(99)
| | |
| --- | --- |
| | Get it with a Free Trial! |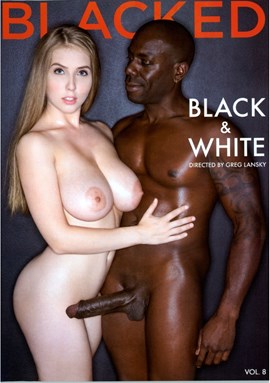 Performers
Director
Studio
Category
Duration (approximate)

Greg Lansky

Blacked.com

160 minutes

Date Added:
01/25/2017
Production Year:
2016
Format:
DVD
There are currently no member reviews. Be the first to review this title.
Industry Reviews (1)
Reviewed by bono-ONE 02/06/17
Source: AdultDVDTalk



Time to say a few words about this recent Blacked release with four scenes to enjoy including one featuring two girls sharing some BBC. A few highlights.

Lena Paul & Joss Lescaf:

The first scene features our busty cover girl Lena and hello does she look fantastic as the scene opens. We see her outside near the pool as Lena's voice comes in laying out the scenario which is the norm for a Blacked scene. Seems hubby is banging the secretary at work and isn't stopping so Lena decides to give him a little taste of his own medicine by bringing over a hot black guy she met at her gym and you can guess what happens after they share a glass of wine. A little foreplay consisting of pussy fingering and a bit of boob play before we have Lena dropping down to take him into her mouth. Really good eye contact as she makes as much of his cock disappear as she can plus there is nice boobage courtesy of Greg's camera. As you might expect with those huge sweater puppies there's titty fucking captured along with a short bit of oral for Lena. This led to the commencement of them fucking and no doubt reverse cowgirl was a big winner in terms of shots captured. Lena's good with P2M as you will see and she turns around giving us a fantastic teasing ass hole shot for her ride in cowgirl. Towards the end of this hook up Lena breaks out her cell and captures some footage to "share" with her husband later on, you go girl! The scene ends with Joss pulling out from behind and dropping a load down off her tongue onto her upper chest with clean up right away from Lena who gets her revenge here for sure.

Natasha Nice & Kylie Page with Prince Yahshua:

This next scene takes us to good ole sunny LA where we find Kylie and Natasha enjoying a little down time while trying out for a music video. Prince has narrowed the choices down to just the two of them. This leads to one on one "interviews!!" Kylie was up first and when this interview seemed to be dragging on Natasha goes to check and yeah finds Kylie face deep with her mouth wrapped firmly around Prince's cock. Natasha decided to step up her game and join them which was A-OK with Prince and Kylie!! The two girls are soon sharing knob polishing duties along with sharing a few kisses and touches with one another, ahh g/g play!! After a few minutes of making sure that dick was nice 'n' ready it was time to lay pipe to these two babes. I should mention just in case you are blind, lol, that both women are blessed with amazing natural breasts which justifiably receive attention from each. Great to see the girls willing to taste the other's pussy off Prince's cock also known as pussy to other girls mouth! Having both ride in cowgirl was way hot as Greg is sure to zero in on those tasty ass holes which were begging to be tapped but alas not this time sadly. Though in one shot we have Kylie riding in cowgirl while Natasha has swung around to ride Prince's face allow both ladies to lean in and kiss each other which was very hot. The trio hit a few shots here and each is fucked multiple times allowing for an equal amount of P2OGM! The scene ends with Natasha taking the load into her mouth and then sharing the spoils with Kylie. I think there just might be room for both in the video after this performance!

Trillium & Flash Brown:

The next scene opens on Trillium who is trying to study in the kitchen when Flash comes in and starts a conversation. He finds out that Trillium is a little light on cash and she wants to go to a big festival. So he flashes a few Benjamins and she's all his!!! Her white dress is unzipped and removed by the time she drops down to take care of "daddy's" cock! You take care of me I take care of you, that's the basic aggreement made here. We get to enjoy Trillium taking care of that big black cock for a few minutes before the two move to fucking with her lying back in mish. The cowgirl shot wasn't bad at all and got much better as that position went on. After a short run from behind he pulls out and straddles Trillium's face until it was time to drop a load to her face. I'd say she's gonna have a good time at this music festival and even better times with Flash going forward earning some extra scratch.

Jade Jantzen & Flash:

Time to close this one out and it opens with Flash dropping Jade off at her place and I loved the outfit she wore The color and pattern was cool and looked great on Jade. Before Flash can take his leave Jade calls him into her room to get rid of a spider, lol. Okay it was really just an excuse to get him there to fuck her,lol. She opens up her legs nice and wide revealing nothing covering her pussy which was Flash's next port of call. This was a change from the other three scenes featuring so much oral for the girl before we even had her suck his cock. It was a nice change and one I imagine Jade enjoyed quite a bit judging from her moans! Jade does finally get his cock in her hands and then into her mouth all while still wearing the interesting blue outfit she began the scene in. There is some good spit/ saliva generated here too during this blow job and you see it dripping down off her chin so she's working hard here. By the time they began to fuck she's lost the outfit leaving only a gold necklace around her forehead as well as around her ankles. Flash also takes Miss Jantzen from behind leading to a few good teasing ass hole shots. Super view during the reverse as we go slightly upwards looking in our vantage point watching her ride and it's a nice wide open shot for sure. From this he pulls out and drops a load to her open mouth and face. I imagine that itsy bitsy spider won't be troubling her any time soon after that BBC laid down the law!

Final Thoughts:

Pretty good show here with the Natasha/ Kylie scene standing out for me as you can't go wrong featuring two sexy busty girls in the same scene plus the two seemed to have a lot of fun with each other as well as making sure Prince's cock was well take care of. The set ups were unique and short so the action begins pretty soon after the scenes begin. There are some special features here with the cum shot recap the one you'll probably want to check out. A photo gallery is also available to look at as you please. Definitely worth it for fans of these girls who want to see them with a big black cock in their mouths as well as banging their pussies. Each scene delivers on that premise abundantly.