Pure 09
(16)
| | |
| --- | --- |
| | Get it with a Free Trial! |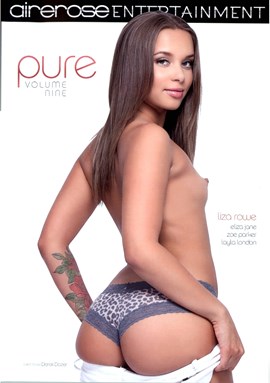 Description: Youthful beauty in its finest form. See another group of sweethearts anxious to hop on a nice big dick and show it all off for the camera!
Performers
Director
Studio
Category
Duration (approximate)

Derek Dozer

Airerose

102 minutes

Date Added:
02/03/2017
Production Year:
2017
Format:
DVD
Reviewed by slant69 03/18/17
Eliza, Liza, and Zoe are very satisfying...plain vanilla, decent acting...would have preferred less cowgirl because the camera spent more time on the ass..
Layla London was ok but looked and smiled at the camera too much...bonus is Christi Ann from Pure 6...just ok
Industry Reviews (2)
Reviewed by Sean DPS 01/25/17
Source: AdultDVDTalk



Pure Volume Nine
Airerose Entertainment
Directed by Derek Dozer
Date of Production:
Running Time: 1:41:47


Starring:
Liza Rowe
Eliza Jane
Zoe Parker
Layla London
Mr. Pete
Tommy Gunn
Anthony Rosano
Jay Smooth


Special Features
Bonus Footage
Scene Menu
Gallery
Trailers


Eliza Jane and Mr. Pete
And we kick things off with the blonde spinner Eilza in her cute overalls during the interview, and some sexy pink lingerie during the mixed in tease portion. Some focus on her tits and booty, before she's laid out on a chair, will a toy and ready to have some fun. These two kick things off with a little tongue wrestling, before she bends over and lets him enjoy the booty and her pussy. He gets her vocal during some finger banging, before she stuffs his cock in her mouth. A nice booty show as she climbs on his cock and we get a few spurts of energy and height, as she creams on his cock. They continue in a few different positions but each has a few streaks of good in them. He gives her booty hole a little teasing with his finger during some doggy action. She gives his balls a little love as he jerks off and deliver some cream on her face and in her mouth.


Liza Rowe and Tommy Gunn
This little lady (our cover girl for this movie) isn't afraid to show off her smile, during her interview, which seems to be on the short side, as she is quickly getting things going with Tommy. A little kissing while he warms up her pussy with his fingers. A little love for her booty, before she's working her mouth around his cock in some 69 action. SHe lays on her side and gets a little vocal as he drill her pussy. I have a feeling some focus on her booty is happening in this scene. So guess what's coming next...it's booty show time, before she's back to some more cock appreciation. A few position changes, but lacking the energy from the previous scene. SHe gets a nice coating of love custard in her mouth as this one comes to a close.


Layla London and Jay Smooth
The tan Layla is switching things up a little, as she seems to be minus pants in the interview and starts off completely clothed in the tease portion, but don't worry, some very sexy jean shorts, and a nice top that enhances the boobs. As the cock appears, she is quick to show her appreciation. They both spend some time showing off their oral skills on each other. A little more attention for her boobs, before she climbs on his cock and it's all about the booty, as she makes it dance on his cock. It's a great booty show, so a little sad and he picks her up and sets her down for a little missionary. She seems more interested in the camera, and perhaps her partner is the reason, seems to be having some issues, luckily switching to doggy gets things back on track. He quickly pulls out and jerks off until he gives her a few drops of custard, although it looks like she already got a little custard earlier on her leg.


Zoe Parker and Anthony Rosano
And we end with another lovely blonde lady, with a great smile during the interview and of course a little teasing in her pink lingerie. Once the interview is done, she quickly ends up naked, bent over as he dives in and gives her holes a little love. A little love for her feet before the fun begins. A few positions before they end up with some spoon, that includes some pussy strumming and a little throat choking. A little teasing of her booty hole, but that's all we are going to get, as he slides into her pussy from behind. We get more booty hole teasing and more love for her feet as the fun continues. A long missionary session as she pins her legs back. A decent custard blasting on her face and in her mouth as this one comes to a close.


Overall Thoughts
I've been all over the place when it comes to these Pure movies, but I have to admit this was one a constant good. We usually get a few hits and misses but this was leaning more towards the hits. A nice collection of ladies, including a few that are going to be on my radar, as to hopefully see more of them in action.


---
Reviewed by Captain Jack 01/24/17
Source: AdultDVDTalk




Airerose Entertainment's signature series is up to Volume 9. They introduce us to 4 newer girls and these are some sexy babes! Every scene starts with an interview section so that we can get to know these beauties. Then they get fucked hard by the studs of their choice! Liza Rowe, Eliza Jane, Layla London and Zoey Parker are the talented newcomers in this edition!
Eliza Jane
Eliza is wearing overalls over a tube top and shorts. She gives us a glimpse into her sexual history while shots of her getting undressed flash before our eyes. She makes out with Mr. Pete and...