Bra Busters 08
(30)
| | |
| --- | --- |
| | Get it with a Free Trial! |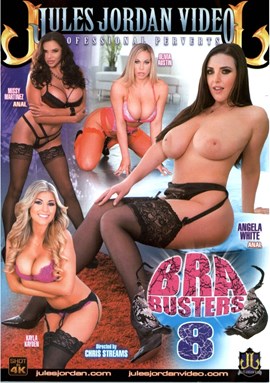 Performers
Director
Studio
Category
Duration (approximate)

Chris Streams

Jules Jordan Video

140 minutes

Date Added:
02/02/2017
Production Year:
2017
Format:
DVD
There are currently no member reviews. Be the first to review this title.
Industry Reviews (1)
Reviewed by bono-ONE 02/02/17
Source: AdultDVDTalk



Time to check out another recent release from Jules Jordan Video with Chris Streams once again behind camera capturing four busty beauties for the series Bra Busters. So big boob fans get ready for four scenes of huge titties bouncing, swaying and who knows what else! A few highlights.

Angela White:

Leading off we get to enjoy this gorgeous woman who hails from Down Under who has relocated to our side of the pond so fans can expect so much more XXX greatness as 2017 unfolds. I have to say it's a good thing I'm watching these scenes on a 65 inch wide screen!!! After the awesome montage of scene footage we're about to enjoy finishes we settle in for the full proper scene and Angela's pretty face is first up flashing us those nice eyes. Pulling back we enjoy the full body shot then quickly back in when she teases us pulling down the bottom portion of her outfit. Of course Chris works in several great close up shots of her ample cleavage until finally Angela releases those puppies and yeah they are most spectacular. I wasn't surprised when the slow motion footage comes in and watching her push those tits together and how they crash into each other was super cool. The self nipple licking was of course something I also loved seeing. Chris keeps the slow mo awesomeness going hitting Angela's ass from ground level and the shaking there is pretty good too as was the spread open ass shot! I think we're ready to see Miss White get a hold of some cock. Manuel then slides onto the bed going right to kissing Angela while also diddling her pussy. More self boob play from Angela here as Manuel works his way down to eating her pussy followed by his tongue making its way into her ass!! It gets even better as he slides under Angela so she can sit firmly over his face, oh yeah. From there Angela hops off and goes right into almost POV mode taking Manuel into her mouth. Right from the start of the foreplay the energy was amazing and only kept building as they worked into fucking each other. Besides the fucking you also see titty fucking, rimming from Angela and of course more boob play from her as well as Manuel. Besides pounding her pussy Manuel does more than a good job of drilling her ass too with excellent gaping too which Chris is sure to zoom in on. It ends with a typically strong pop from Manuel to Angela's face and tits. Yeah I think porn fans here in the US will be very glad to have more of Angela to see this year, simply amazing woman to watch on camera. Fun, sexy and clearly into having a good time with whomever she's fucking.

Kayla Kayden:

Up next we meet Kayla who comes walking in the shot from a short distance away. She looks nice posing near the pool and we do move the shot in close as well as going back for the broader view again. Wearing neon pink lingerie with black stockings we finally settle in for some extended close shots of this busty beauty. Ample cleavage showing and she isn't shy with the caressing and then pulling the bra completely off so those puppies can breath in the morning air. Chris brings back the slow motion footage and watching her tits crash together this way is pretty cool. You've seen the same shot like this at normal speed a lot but using the slow motion for the shot we've seen thousands of times at least gives a cool but small difference and I liked it a lot. Pulling the lingerie down in the back offers up choice views of her open ass and again the slow mo comes in for ass cheek bouncing! Heading in we see that Manuel is back for round two and he gets in some early body touching using fingers on her pussy. He also says hello to her tits and even going under to kiss the under boob! After some brief pussy licking we move to Kayla having her turn and doing a fine job taking in as much of Manuel's cock as she can. Sexwise there is a nice reverse early on with the shot also swinging around from Manuel's POV making it appear like cowgirl would. Kayla nicely slides off for P2M here as well. The action continues with some titty fucking mixed in along with a couple nice rides in cowgirl with a perfect teasing ass hole captured. The scene ends with a nice wide open pop to Kayla's mouth with some jizz dropping down onto her tits. Clean up as well.

Olivia Austin:

Moving right along we come next to Olivia who enters a room batched in white from the long couch to the curtains and the bar stool chairs. Olivia is wearing pink up top and red stockings below. The shot nicely works in close on Miss Austin who does a good job caressing her body from those big boobs around to her ass which Chris is sure to zoom in on when she turns around. Olivia doesn't make us wait much longer before she frees up those boobs and Chris does his due diligence moving the angle in nice and tight on those puppies. I have to say watching the tease here, big boobs on a big screen = Winning!! Olivia then makes her way in front of a big mirror so she too can enjoy those titties as we are seeing them. From behind we have Ramon Nomar coming up on Olivia and immediately goes to playing with those tits. Playful slapping of them along with caressing and finally sucking on them. Ramon then makes great use of the bar stool placing Olivia on it, spreading open her legs and diving in to taste her pussy also using his fingers. Ramon really gets into the finger banging too causing a nice squirt climax from her kitty. From there he was in perfect position to feed his cock to Olivia who eagerly takes him into her mouth. Still on the bar stool we get some strong pussy fucking with P2M too from Olivia. The duo then move to the very long white couch where Miss Austin first teases us shaking her ass then offering sloppy head with plenty of spit play until finally she hops on for the ride in cowgirl. Made perfect sense to turn her around after a time so we can enjoy her tits in reverse. A couple more positions including titty fucking and we were ready for the pop which Ramon launches to Olivia's waiting mouth.

Missy Martinez:

Finale time and we check in with Missy who is dressed mostly in black here though we have an awful lot of her body already showing from the start. Missy does a fine job making sure we see both her front with the huge titties and then from behind so we can ogle her ass. Missy makes great use of a glass table to pose her pussy and ass over and Chris is able to slide the camera under to capture this beautifully. Finally Missy releases the titties and right off we move in close as she starts shaking them and a couple licks too from her tongue to those puppies. Chris does an expert job here going smoothly back and forth showing off Missy's boobs and then her ass offering up just enough close shots to get your dick hard or your pussy very wet! Missy finally finds her cock to play with coming up on Chris Strokes seated and standing over his face feeding those tits down to his waiting mouth. Chris is also living up to his last name stroking his cock while being titty fed! Missy then moves around to the couch and goes right in on that cock getting aggressive right from the start engulfing as much of him as she can plus taking care of his balls. A short blow job here, though, but we do have Missy climbing on for a ride in cowgirl complete with the close in teasing ass hole shot. The second shot then has Missy turning around for a run in reverse with the addition of Chris filling her ass too! The shot from the side in doggie anal yielded a couple real good gaping shots of that ass. One highlight position towards the end you don't see a whole bunch in scenes was pile driver plus it was in anal too. Chris pulls out in this shot and drains his load down upon Missy's tits, pussy, and face with her rubbing some in.

Extras & Final Thoughts:

A strong effort here from Chris and crew with big time thanks to the four ladies who played for us including anal from Angela and then Missy in the last scene. Plenty and I do mean plenty of boobage is captured in this one from the tease segments which you might need to slap your cock a time or two in order to keep watching especially with Angela White who leads the show off doing a super hot scene with Manuel Ferrara. The extras include some BTS with Angela and this was a definite must watch. There is a photo gallery too plus the pops repeated. An easy recommendation for big boob fans who like some hot sex to go along with the awesome boob footage.