Breast Worship 05
(28)
| | |
| --- | --- |
| | Get it with a Free Trial! |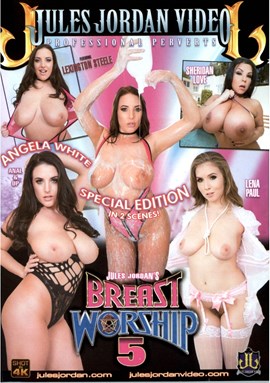 Performers
Director
Studio
Category
Duration (approximate)

Jules Jordan

Jules Jordan Video

138 minutes

Date Added:
02/04/2017
Production Year:
2017
Format:
DVD
There are currently no member reviews. Be the first to review this title.
Industry Reviews (1)
Reviewed by bono-ONE 01/24/17
Source: AdultDVDTalk



Time to get back into it after a week long trip out to Sin City for the big AEE show and AVN Awards which were a lot of fun once again. Now we move on to a new year and the next titles are coming out that will shape this years awards race. No doubt this release will be in the discussion especially with the busty beauty Angela White appearing not once but twice in this release. A few highlights.

Angela White:

The wait for the first Angela White scene is a short one as she starts us off. If you have seen a Jules Jordan show then you know he likes to start off with a selection of scene fragments from the scenes about to unfold so after those are done running we settle in on this Australian beauty. Angela comes walking into frame wearing a see through number and quickly the focus zooms in on those gargantuan titties! Jules works in some good eye shots too though I wouldn't blame you if your eyes were still glued to all the hot boobage we're seeing here in the early tease. Miss White starts moving around the house as she works those large breasts out and we also get some teasing glimpses from behind on her ass hole which if you paid attention will see plenty of action in short order. Angela finally makes her way to the bathroom going into the glass shower area. Not long after arriving the shower is turned on and yeah the water cascading down onto her tits which are gently swaying back and forth made for great television for sure. She adds in some soap and boy the suds start accumulating quickly. So much so that it looked somewhat like splooge!! Forget the car wash fetish just keep the soap for the titties!! The shower is still running when we have Jules and Chris Strokes coming in to joining Angela, cocks at the ready. She gets a firm grip on both men as they start to enjoy those heavenly hooters. Dropping down to her knees Angela begins trading off those cocks in her mouth and she does some double stuffing of the boys too. The fucking soon begins too and the guys take turns tapping her pussy and we get anal showing up fairly early on too with reverse leading that bit of fun off. The guys then go further making this a DP session which I gathered is the first Angela's shot outside of doing them for her own company so great news for her fans. The action does eventually move outside the shower to a big comfy chair where the men go back to double penetrating Angela who gives them the positive reinforcement to keep plugging away. The guys do a few varieties of the DP too including one where they both were standing behind Angela and filling her holes but not pumping at the same time and this gave Angela a sensation she made sure to comment about. This well done 2 on 1 ends with both men blowing their loads to her face and tits at the same time with great clean up from Angela after.

Sheridan Love:

The second scene opens up outdoors on a nice sunny day. Jules is behind the camera taking in the busty beauty known as Sheridan Love. She lifts up the white mesh top to start playing with her boobs including some hot self nipple love--- ladies with boobs this big must have an idea how hot it is to watch them licking/ sucking on their nipples like this. Wish it was emphasized more in porn. Sheridan does it a couple times here which this viewer loved. As the tease wears on she gets those boobs nice 'n' wet for us eventually pulling a hose out to really get 'em soaked. Who do we have to come in and dry those boobs off but the man himself, Manuel Ferrara. After he has shown those hooters some love we have Sheridan dropping down and taking in as much of his cock as she can. Heading off then to a covered location but still outdoors we have Manuel going back in this time from behind to taste her ass!! After he's teased 'n' pleased both holes Sheridan gets back in there with more head leading to the fucking which begins in cowgirl. Very good teasing ass hole shot provided then the shot swings around front so we can watch those tits bounce. At one point during the sex she moves up to sit on Manuel's face and I don't think he minded one bit, lol. The finish then arrives courtesy of titty fucking. Manuel blasts off a few good ropes into Sheridan's mouth with clean up after. The cum oozing out from her mouth as she wraps her lips around his dick.

Lena Paul:

Moving right along we come next to Lena who starts off in black & white. The titties are pulled out quickly and she is kind enough to lick/ suck on her tits ever so briefly. We get a few good minutes here to enjoy Lena as she plays with those boobs including licking the nipples again, awesome sauce! The color then comes into play as we keep the boobage going. Breast Awareness!!! Lena makes her way onto a big bed and goes doggiestyle to show off that ass a bit. That was all it took for Chris Strokes to come in for a closer look. He's there to make sure those boobs are in good working order. He gets them wet, sucks on them and everything seems to be fine. So they move on to Lena having fun with his cock including titty fucking Chris. Pulling back Chris slides back in this time in mish with lots of good boob shaking. Lena also goes for the ride in cowgirl too though we swing the shot back around front side so it appears as reverse would on your screen. Jules does work in the shot usually given for cowgirl as well ans that reveals a most promising teasing ass hole. Finishing up in doggie we get the pop to close and it's right on target to Lena's face/ mouth with clean up after.

Angela II :

The finale brings back Angela who has tits so great they needed a second scene for us to fully enjoy them! Angela is wearing black here matching her hair color. Some good see through action here as well plus Angela knows perfectly how to show off those money makers. The two have a dialogue here as we enjoy the boob tease including a few licks to her nipples, thanks Angela! The eye contact she gives while sucking on them was awesome, almost like she was looking just at YOU! Jules goes floor level to work in her pussy too and she's pulled the material deep inside her lips but at the same time her tits still dominate looming at the top of our screen. A solution to break your boob gaze and it works too as Angela pulls her ass open wide and yeah that's a teasing ass hole anyone would be happy to dip their tongue into. Jules has brought in the best boob massage specialist too who finally makes his appearance and it's the Man of Steele himself. Lex already has his cock out and erect too as he knows these titties will need extra special attention. The two join up and he takes that cock teasing her tits and then ass with it. They end up getting those tits nice 'n' wet leading to titty fucking and then finally Angela drops down to take Lex in. The side view is good here and we do take note as she gets in some ball play as well. Fucking magnificent is the comment from Angela! Heading inside we continue with Lex taking her from behind and Jules gets the shot from under his glass table where we see her tits are pressed down onto. Moving to a big cushion they up the pace in cowgirl as Angela crashes down and down and down on that cock causing maximum boob dancing plus we get a couple nice shots of her ass hole too. After a short turn in reverse Miss White lays back with those legs wide open so Lex can ease in for our first bit of anal love. When they hit anal in reverse you see the pace pick back up again. During the doggie anal Lex pulls out a couple of times revealing a very nice size gape. Sensing this was a gold shot Jules keeps the two going at it for a nice time with more gaping witnessed. It ends with a pull out and Lex blasting off a pretty good load to Angela's face, eyes, forehead, chin, lol. The clean up is good too closing out this Angela White boob fest in fine style.

Extras & Final Thoughts:

This was a very good title for those who love big boobs. Sheridan and Lena both have strong scenes in their lone appearances but there is no mistaking this title is dominated at the start and then again at the end by Angela White. Now living in the US full time I'd keep a strong eye out for the content this Aussie import will drop on the US fans this year. No doubt it will be epic and this release here kick starts that run. Now for extras you can revisit the pops or check out a photo gallery. There is a BTS segment too which shows some of the sex as it's being filmed and they do a few pauses for some direction. Giving you a flavor for just what goes into producing the scene. They show bits from all the scenes but this part is also dominated by footage featuring Angela White so if you're a fan of hers at all you will want to add this title to your growing collection.