Star Wars Underworld: A XXX Parody
(102)
| | |
| --- | --- |
| | Get it with a Free Trial! |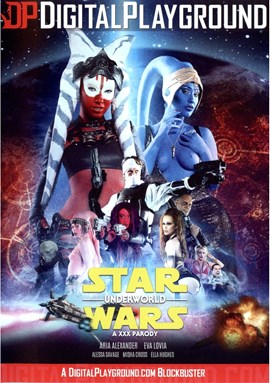 Performers
Director
Studio
Category
Duration (approximate)

Digital Playground

90 minutes

Date Added:
10/03/2021
Production Year:
2017
Format:
DVD
There are currently no member reviews. Be the first to review this title.
Industry Reviews (1)
Reviewed by fu_q 01/18/18
Source: AdultDVDTalk



**Note ? This review is based upon the web version of the film released for streaming on Digital Playground?s official website. As such, the bonuses haven?t been given a rating, and there could be some discrepancies between this version and the DVD release.**

Review:
When a powerful, Twi'lek senator's daughter, Tyleah Daivik (Eva Lovia), is kidnapped helplessly in front of her, a young, Togruta bodyguard (Aria Alexander) and her bounty hunter pal, Dengar (Luke Hardy), set out on a desperate quest to save her from the seedy, Coruscant underground. Whether they'll find her and rescue her before it's too late, or whether she'll be subsumed into a life of sexual slavery and passed from one greedy pair of hands to another, remain the questions of the day. Of course, given the participants involved, the one thing that can be counted upon is a lot of hot and steamy schtupping along the way. Such is the case in "Star Wars Underworld: A XXX Parody", a very good, strong 4-star release from Digital Playground and director Dick Bush. Set in the less-encountered, low-end side of Coruscant, where cantinas and brothels run the show and sex and drugs are the primary form of currency, this flick does an excellent job of shifting the paradigm away from the typical, "cleaner" Star Wars universe to an edgier, grittier one, all the while managing to adhere well to the nuances of the source material. Indeed, showing a rougher, harder side of Star Wars--instead of merely replicating the existing tone and themes of the movies--holds a lot of potential for the adult film world, which is entirely unhindered by the mainstream market's demands. And certainly in this case, it works exceptionally well. All of the sex is scorching hot, as are the female participants. The makeup and sets are generally quite good, and the storyline has the viewer wanting to continue watching to see what happens next. A very good blend of all of the elements that go into making a solid porn "parody", it's hard to find anything meaningfully wrong with this release. As such, it's easy to recommend, particularly for fans of Star Wars, sci-fi porn, any of the ladies, and/or the director's feature work. If any of those items apply to you, it would be worth your while to check this one out. It was certainly worth mine.

In terms of the sex, Scene One finds the orange-skinned, Togruta bounty hunter and bodyguard, Aria Alexander, getting it on with her bandage-clad bounty-hunter buddy, Dengar (Luke Hardy), in a shot-up, Coruscant cantina. Despite the fact that her charge, a Twi'lek senator's daughter (Eva Lovia), has been stolen out from under her drugged-out nose, she still fucks like a tight-assed, little demon. The pair pounds it out orally and vaginally--and even when disrupted by a couple of baddies whom Hardy has to eventually shoot with his blaster--they continue on until he gets a chance to then shoot Aria in the face with his "other" blaster. She, of course, having just sucked and jerked him to completion, provides some post-cum head. In Scene Two, the stunning, blue-hued, Senator's daughter, Eva Lovia, negotiates with her captors, Juan Lucho and Monty Don, with both her father's money...and her pussy. Of course, both are certainly enticing, and it isn't long before they unshackle her and take her up on her offer, fucking her all about their cluttered, underground lair. A steamy, oral and vaginal fucking follows, with Lovia fielding schlong like the blue-skinned wonder that she is, and the good times ultimately come to a close with a double-facial...including a real spurter that glops up her face quite nicely. Scene Three pairs up Dengar (Luke Hardy) and the pink-hued, purple-tressed kidnapper boss, Alessa Savage, for a semi-gymnastic grudge-fuck up against some bars in the catacombs of Coruscant. He pounds her daylights out orally and vaginally, and this intense boinking closes out with a cum-shot all over her chest...and some post-cum head. In Scene Four, a death-stick salesman with horns, Nick Moreno, and a stunning, strawberry-blonde, Ella Hughes, order up a pink Twi'lek dancing girl and prostitute, the lovely Misha Cross, for a quick, backroom lay at a high-end, Coruscant brothel. Both ladies suck his dick, but it's Cross who takes him vaginally and anally. A touch of girl-on-girl action unfolds, as well, and this little scorcher is capped off with a sloppy load on Misha's pretty, little mug (post-cum head). Scene Five finds Aria Alexander going undercover as a hooker to help spring Eva Lovia from a criminal overlord's (Nacho Vidal's) clutches. Of course, this means fucking him--and one another--in a backroom at the brothel from the prior sequence. The contrast of orange and blue serves to accentuate the beauty of these two alien babes, and Vidal is certainly up to taking care of both of them...which is exactly what he does. He serves up a healthy dose of the "D" to each lady, ultimately ejaculating on Aria's breast. In Scene Six, a celebratory orgy of sorts unfolds between Eva Lovia, Aria Alexander, Alessa Savage, Luke Hardy, and one of Alessa's henchmen, Marc Rose. Taking place back at the original cantina, this one is smokin' hot and involves all of the women getting banged out orally and vaginally. The mix of hotness and color really works well throughout, as does the wanton willingness of these super-sexy, extraterrestrial babes. In capping off this raunchy romp, Alessa and Aria take a facial from Rose--which they cum-swap a bit--and Eva gets a cream-pie from Hardy. Of course, she lets it dribble and ooze from her freshly-fucked hole. Wow! An awesome way to end an awesome flick. Another winner!

Bonus-wise, there's a short BTS segment (~5 min.) and some photos up online. It's likely that these made it onto the final DVD release.