Anal Day 04
(24)
| | |
| --- | --- |
| | Get it with a Free Trial! |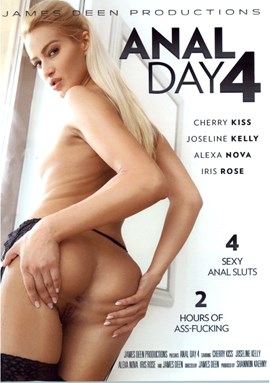 Performers
Director
Studio
Category
Duration (approximate)

James Deen

James Deen Productions

120 minutes

Date Added:
03/19/2017
Production Year:
2017
Format:
DVD
There are currently no member reviews. Be the first to review this title.
Industry Reviews (1)
Reviewed by Gray Worm 05/16/17
Source: AdultDVDTalk



Summary.

Well, the anal is good throughout, all four girls are exceptionally well fucked but each scene is let down by some silly little detail. Joseline is an odd colour, Iris has a very bland scene, Alexia is poorly framed and Cherry feels like we've just missed the real sex (ok, Cherry is about perfect). The vexing thing is that James is a talented talent and the girls all fuck brilliantly but with Iris and Alexia its difficult to look past the flaws in their scenes. I'm constantly awed at how James can simultaneously fuck such beautiful women and capture every moment on camera in a sexy and exciting manner. Unfortunately, it seems that being both the talent and the director means that you don't have the opportunity to scrutinise your work as you're making it. If only James had pulled his cock out of those lovely arse for a couple of moments to check his angles, lighting and pace he could have produced four suburb scenes.

Joseline Kelly

I trying to see more of Joseline recently, having noticed her in a handful of releases it struck me how impressive she is in her scene in Interracial Teens 3. She isn't just dirty she's also genuinely very talented, watch James face during this scene and you can see that she's giving him something well above average. Joseline has lovely trim body, three beautiful holes and she absolutely knows how to use them all. She's also beautiful to listen to, Anal Day starts off with a meandering preamble, while I normally prefer a cutesy opening I appreciate the straightforward "we're making a porno" style too. Joseline gets felt up before she delivers a sloppy wet blow job and gets her trimmed pussy eaten before moving onto the anal she takes mish and reverse cowgirl. Being an absolute professional Joseline knows how to work for the camera but once she's getting her arse fucked and her pussy fingered she quickly loses her composure and becomes a a screaming fuckdoll. By the time she's moved into doggie she's totally high on cock. In doggie the pace is amazing and the brunette is reduced to grunts. Joseline regains her composure quickly and shows off her battered hole managing a little conversion before spreading her legs and having cum rain on her cute arse. I was initially put off by the odd colour mix of this scene, everything seems a little washed out, but once Joseline starts working little technical details are barely noticeable.

Iris Rose

There's something eerily familiar about this scene. Couple asleep in bed, Iris has woken up first and clearly in need of a morning fuck has decided to rouse James with a sweet wet blowjob. This is pretty much the same Saturday and Sunday morning sex that most of us wake up to. We've been out, taken home a girl or fucked our wives the night before and then in the morning she's woken up with messed up hair, only a choker collar and a tingle in her snatch and decided it's time for another round, well, it's either fuck a beautiful blonde or goto church. I'm not sure what to make of this scene. Iris is hot and fucks well but the pedestrian nature of the setup lacks any sort of flair, if my homemade porn was less wonky and twice as long then this could have come straight from my own private collection. That said, Iris has an amazing body and fucks like the professional she is, if I had taken home a girl like her then I wouldn't want to leave the bed for days. She takes cock in both her holes and although the pace remains slow until the end (in keeping with the Sunday morning theme) she looks amazing in every position. After Joseline being a little too pink, Iris scene has a greenish tinge but while Joselines odd colours were off-putting, in this scene they really add to the homemade feel. Verbally this is a great scene, Iris begs for cum in her ass (and gets it) and moans and "daddy"s like a whore throughout. I just wish she'd had a more exciting scenario.

Alexia Nova

Starts with her proud buttocks filling her shorts before losing them and stripping slightly off camera. I don't object to these intimate single-camera films but I wish that they'd concentrate on their shot placement. Alexa is quickly bent over begging "please fuck your pussy" and looks great bent forward with her hair being pulled but unfortunately whenever she straightens up her face is out of shot. This is improved when she sits in the edge of the bed for a facefuck, I'm not sure what shampoo and conditioner she uses but James seems to like it as he doesn't stop grabbing handfuls of hair and using her head as a toy. From here the action moves onto the bed, whereas the performers were initially too close to the camera, now irritatingly they are too far away, Alexia rides well and James moves from hair grabbing to getting two handfuls of titty but the action is tiny and the bedroom setting is uninteresting. Even an angle change doesn't resolve the problem, annoyingly the camera is now right next to the action but pointing at a mirror. The fucking is quite indistinct, not since the days of VHS have I had so much difficulty telling which hole a girl is being fucked in. Flipping onto the floor Alexia is almost totally obscured by the set which is so sad as she sounds amazing and appears to be having an awesome fuck it's just a shame that so little of it was captured on film.

Cherry Kiss

Kiss kiss bang bang. Another scene of aftersex sex, Cherry starts her scene relaxing with a variety after having her pussy and arse banged. She is wonderfully candid about herself and comes across as being very highly seed, something she proves by whipping out James cock and starting a sloppy wet blowjob. She looks fantastic with her tousled, already fucked hair and while the action is done with the handheld and there's some awesome POV moments. James is already hard and raring to go so he quickly has her in doggie over the couch and starts in her arse very hard while she strums her pussy. Unlike Alexia this scene is framed perfectly and Cherry looks great being fucked in doggie, sidelie, reverse cowgirl staying in anal throughout. I initially wasn't too keen on seeing another postcoital fuck scene but as with Iris this really works, Cherry is messy and dishevelled and doesn't need any warming up, after the preamble and blowjob I don't think she manages a coherent word as she continues to scream. The action switches back to handheld for a second blowjob and mish, James shows his talent as he continues to fuck hard while getting all of the action and switching between pussy and anal. By now, Cherry is an absolute wrecand James gives us plenty of opportunity to admire Cherrys abused holes, she doesn't so much assume a position as roll around the couch screaming and orgasming.