Flat and Fucked 09
(22)
| | |
| --- | --- |
| | Get it with a Free Trial! |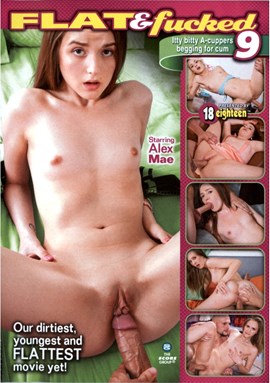 Performers
Director
Studio
Category
Duration (approximate)

Score

120 minutes

Date Added:
03/25/2017
Production Year:
2017
Format:
DVD
There are currently no member reviews. Be the first to review this title.
Industry Reviews (1)
Reviewed by Dawg69 10/01/17
Source: AdultDVDTalk



Scene 1 (1 of 5 Stars): Emma Ryder Vs Peter Green. Both are in a classroom (Detention?). Emma grabs his crotch and the fun starts (fun for some, but not for the viewer!) Peter Green is a very average Latino (?), with little dick to offer.

Scene 2 (2 of 5 Stars): Danielle Abbotte Vs JMac. Danielle & JMac are in a room together...and wouldn't you know it, they both get it on. Danielle is border-line chunky and unappealing to me. Fast forwarded!

Scene 3 (3 of 5 Stars): Alex Mae Vs Long-haired, short white Dude. This was actually the better of all the crappy scenes here. Short, young dude w/pony-tail whips out a very descent cock. As the gorgeous Alex services the cock, it grows fatter by the second.

Scene 4 (2 of 5 Stars): Lyly Rader Vs JMac. Yawn!

Scene 5 (1 of 5 Stars): Elsa Jean Vs Peter Green. "Little" Peter is a Doctor examining Elsa. They get it on....YAWN!

Scene 6 (1 of 5 Stars) Rachel James Vs JMac: JMac for the third time! I'm hugely turned-off by Adult Studios using same guy on multiple scenes! Don't know why a 6th scene was even necessary, I had already suffered enough through first 5 scenes.

PROS: Perfectly casted Ladies (for Genre), slender girls! If that's all you're into, then this one should work nicely. But if you like good sex, then this one is a disappointment.

CONS: Zero background music, very little interaction among the couples getting it on. At one point, I wondered if I had my remote on mute!