Black and White 09
(102)
| | |
| --- | --- |
| | Get it with a Free Trial! |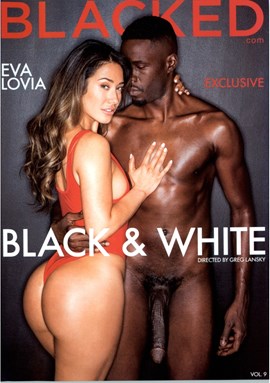 Performers
Director
Studio
Category
Duration (approximate)

Greg Lansky

Blacked.com

160 minutes

Date Added:
04/18/2017
Production Year:
2017
Format:
DVD
There are currently no member reviews. Be the first to review this title.
Industry Reviews (1)
Reviewed by bono-ONE 06/18/17
Source: AdultDVDTalk



Time to check out a recent IR themed release from Greg Lansky for Blacked. Four scenes of girls taking on some BBC featuring Eva Lovia on the cover. A few highlights.

Eva Lovia & Jason Brown:

The first scene begins with Eva who has recently moved to LA and has a good challenging job but she also has to share a place with a relative who isn't that much fun. Eva is almost at her wits end when a former acquaintance starts texting her and the two had one memorable hook up that due recent events had Eva itching to revisit that one time blast of passion. The visuals Greg presents of Eva touching herself while relaying all this info helped to set the stage. It took a little work to get time alone for the two of them but finally Eva gets Jason all to herself. After kissing a bit and losing their clothes we have Eva dropping down to the classic kneel down position where Jason's cock finds snug fit inside Eva's mouth. The eye contact is spot on as she works that tool. There's even some good POV footage captured as well here. Jason returns the oral favors briefly tasting Eva from behind and in mish before he moves up to slide his cock in for the first action. After P2M we turn Eva around for a run in doggie including a few nice seconds of teasing ass hole footage POV style. Oh yeah, cowgirl then takes center stage with a good view from behind of Eva's ass. It was during this ride that Jason deposits his seed which you see evidence of. Eva slides down to lick up some of the jizz that didn't find a home inside her pussy.

Kelsi Monroe & Jason Brown:

This next scene opens with Kelsi telling us about a big audition she was up for and how the guy she was showing off for had been burning up the charts lately. The gig was down to her and another dancer who was pretty good so Kelsi was going to have and go that extra mile! She shows the moves in terms of dancing but then begins other moves like wrapping her lips hard around Jason's cock while giving him excellent eye contact. After that fine initial run of head the two finish getting naked and we get Kelsi going right back to pleasuring that long schlong. Kelsi more than has that cock ready by the time they start fucking with cowgirl leading off. The teasing ass hole footage was quite good here as we move the shot in nice and close. After P2M we keep that ass firmly in our sights as Jason goes behind to take her pussy doggiestyle. There are a couple more positions captured before we end with an open mouth pop for Kelsi along with some clean up. I think she's got the video!

Eliza Jane & Prince Yahshua:

Moving right along we come next to Eliza who had borrowed some money a short time back to pay for her car repairs and she's been paying Prince back ever since-- not with sexual favors but by allowing him to spank her. This day, however, was going to be different. Prince takes her payment in terms of money but he wants something different beyond just spanking. We open with Eliza on her knees crawling towards him-- should I mention she tells us that she loves being his plaything so I imagine fucking him won't come as any big problem! The slow crawl, close in facial shots and the music chosen were all super hot. Prince then yanks her up, across his knees and the stinging spanks come. Prince gets so into it the panties are ripped off and still more spanking! That little tushy was rosy red! Prince then lets Eliza know she's paying extra today and he pulls out his anaconda and Eliza doesn't bat an eye taking that bad boy into her mouth. This girl was having entirely to much fun! A small pause for Eliza to lose her white dress then it was back to her pleasing that cock 'n' balls. A perfect choice to lead off with cowgirl in terms of fucking and right off a perfect in close teasing ass hole shot. Damn that was a fine view! It was good to see Prince lick her freshly fucked pussy in between position changes. The scene ends with Eliza taking a good open mouth pop from Prince playing with the jizz a little along with some clean up. Is her debt paid off, perhaps!

Megan Rain with Isiah Maxwell & Ricky Johnson:

Time to close this one out and we get not one but two big black cocks for Megan to play with. The scene begins with Megan telling us all about the big football game that her team just won. She invited a girlfriend over along with a couple of the players to celebrate that weekend. She had the hots for Ricky and wanted her girlfriend to keep Isiah occupied if you know what I mean. Ricky and Megan manage to slip off so that they can have a more personal touchdown celebration which quickly has Megan dropping down and taking his cock into her mouth. Megan really gets into the head here as you see a lot of saliva used to work that dick up to speed. Turns out the girlfriend wasn't up to holding her end of the bargain so Isiah heads in for a beer and hears the familiar sounds of fucking so he goes to check it out and Megan wastes no time in bringing him in and it's a two man blow job for her!! She spreads the saliva around to both dicks as well as allowing it to drop down onto her titties. The face fucking game is strong with this girl. Very nice to see Isaiah go in from behind to briefly taste Megan's holes before easing into her pussy while up front Megan is still quite busy with Ricky's cock. The trio do a good job moving around and changing it up including Megan squirting during the run we see in reverse. You also get good open footage in mish as well from both guys leading to the pops which find Megan on her knees taking both blasts to her mouth with clean up as well.

Final Thoughts:

This was a good IR show from Greg and co. with Megan certainly closing it out in strong style taking on two cocks. The whole set up for the Eliza Jane scene worked so good for me and might've been the best scene. Watching her with the slow crawl over to Prince was a great choice and captured perfectly. In terms of extras I think most viewers know you get the basics- a cum shot recap and a photo gallery so check those out if you wish but most certainly check out the main show as the four scenes keep the Blacked magic working real good.