Anal Threesomes 02
(91)
| | |
| --- | --- |
| | Get it with a Free Trial! |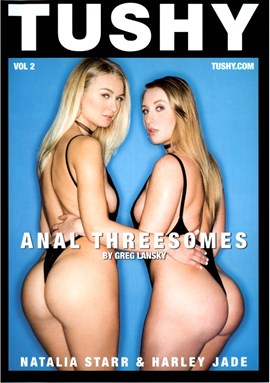 Performers
Director
Studio
Category
Duration (approximate)

Greg Lansky

Tushy.com

170 minutes

Date Added:
06/23/2021
Production Year:
2017
Format:
DVD
There are currently no member reviews. Be the first to review this title.
Industry Reviews (1)
Reviewed by bono-ONE 06/09/17
Source: AdultDVDTalk



Greetings porn fans. Time to have a look see at a recent anal themed release from Greg Lansky for his Tushy.com studio. A four scene show where each scene features anal action and we can only hope that both female performers will be opening up their backdoors to these lucky cocks. A few highlights.

Natalia Starr & Harley Jade with Manuel Ferrara:

Things get heated pretty early in our lead off scene where Harley's celebrating her college graduation with her best friend Natalia and her sugar daddy. The women begin making out in the bathroom wearing real nice black lingerie. The ladies then take a pause to head off so that they might include Manuel in their fun so the trio then get going with a little more kissing followed by the college graduate dropping down to engulf as much of Manuel's cock as she could take in. Natalia wasn't long in joining her and we have some good head from the girls to warm each other and Manuel up. Shared knob polishing would certainly do the trick there! The action heads off to the bedroom for more joint head from the ladies and then finally some fucking. Cowgirl with Harley riding first was a fine start with plenty of teasing ass hole footage and Natalia dipping in to lick that ass. Natalia also gets her pussy filled but she also allows Manuel to slip down that short distance so that he might tap her ass too. After some sustained anal you see a decent sized gape left when Manuel pulls out. Good to see that Harley was also up for anal fun with her best shot coming when Manuel takes her from behind in doggie. For Natalia I'd say her reverse anal was probably the best shot captured. You get A2OGM from Natalia in this scene as well and we end with Manuel launching one of his typical monster blasts of cum to both faces and they each give clean up head and then cum kiss one another.

Jillian Janson & Anya Olsen with Jean Val Jean:

On to the next scene where we meet Anya and Jillian who were enjoying a fun summer and closed it by renting a house and when they saw Jean who owned it they swore before the summer was out they'd fuck him! So the day comes to turn the house back over to him and Jean arrives and finds a trail of their clothing along with the sounds of sex going on. Naturally he follows those sounds to investigate! Of course he finds the two girls in bed and Anya's face deep in Jillian's pussy. The girls quickly rise up to include Jean who was totally in for their unspoken proposal. The two quickly have his cock out and into their hands and mouths. Jean just has to sit back and relax as these two expertly trade off his schlong. Having him sit back and the girls get on either side was a really good shot from Greg here. This was some really good head I have to say and the g/g interplay between Jillian and Anya was amazing, such good chemistry here. The girls get a little nasty too as we stand Jean up so one can blow him and the other lick his ass! Another awesome cowgirl starts the fucking and the teasing ass hole from Jillian was so good and thankfully we get Anya going in to lick it just before she does P2OGM. The two change out allowing Anya to ride in the same shot and it looked equally hot with Jillian now licking ass and doing P2OGM. It was time then to up the stakes and these two are both anal friendly so it was Anya who goes first turning around to reverse to allow Jean in. After Jillian rides him in anal she gives us a squirting climax from her run in reverse anal-- very hot! Oh my does she squirt the juices dripping down off her legs and the two both descend to lick them up from Jean's cock and balls. Quite the nice finish too as both are analized one more time and Jillian offers up one final squirting climax before the each share in the spoils of Jean's pop. These two were great together!

Kristen Scott & Amara Romani with Ramon Nomar:

The show keeps on trucking with this next scene which opens with Amara telling about spending time with her friend Kristen and how they do everything together! As the voice over plays on we learn her deepest darkest secret-- she's got the hots for Kristen's step dad, Ramon-- I can see where this is going, lol. But wait, there's a twist!!! Before Amara can even think of telling Kristen about this she's told by Kristen that she's been fucking him for the last few months-- okay now I can definitely see where this is going!! After they each have spoken of their lust for Ramon it was decided to go and see him with Ramon more than happy to include Amara in the fun. The girls have fun kissing each other here early on as well as including Ramon in as well. The two girls don't wait to long before working that cock out and with some fake incest talk from Kristen the two both get turns and taking him in. Again we get a great shot with the guy now lying back with his cock in the foreground and the two girls on either side swapping off his cock with some very nice head. Sex wise why buck a good thing so they start once more in cowgirl with great close in ass hole shots plus P2OGM. After each girl's pussy has been filled we get anal with Kristen the first to have her ass tapped during her long ride in reverse. There are a couple good gape shots during this run. Amara also gets in on the anal fun with Ramon taking her ass from behind with Kristen hovering right there for A2OGM!! They offer up a real good doggie anal shot for Kristen too with more A2OGM worked in. The scene soon ends with the two sharing the pop, another fine anal scene.

Adria Rae & Cassidy Klein with Mick Blue:

Final scene time and we check in on two friends who just can't seem to find anything to do on this hot day. Cassidy and Adria were bad influences on each other if you believe their parents so it shouldn't come as a surprise that one would come up with a risky idea for fun. It was proposed they go and check out this rich Euro guys house as he leaves his side door unlocked. The two put on their shades and head off each wearing white tops and tight blue jean shorts. The girls creep around his house until they arrive in the bedroom where they begin making out with each other. The tops and shorts come in quick succession and it was Cassidy who drops down first for oral fun. Not a shot you always see in g/g oral and I like it whenever it's shown. They soon make use of the bed to continue the hot oral until hello Mick's standing right there in the doorway just casually watching the two of them going at it, lol. He's not the least bit upset and accepts their invite to join him and the sextivities resume. The girls have removed his cock and start trading off with the knob polishing. Another good shot of the guy sitting back and the girls on either side still taking good care of that cock and try swapping tongues while licking his head--- yeah sign me up for some of that please! These two spend a few good minutes here making sure Mick's dick was ready to fuck their holes. This entire show has featured great cowgirl shots and this finale was no different as we begin the sex with a fantastic close shot of Adria's ass as she slides up and down with her pussy while a very interested Cassidy Klein stays close by doing P2OGM mouth along with licking her friends ass. Naturally Cassidy goes for that same ride while Adria stays up front riding Mick's face briefly before she too goes in close to taste her friends pussy fresh off his cock. The two girls are also analized a couple times each here with some ass tasting off the cock and a couple quick gape shots. The scene ends with Mick making sure to give these two intruders a good load to share. Break in any time girls!

Final Thoughts:

Another strong anal themed release from Greg for the Tushy brand. Four scenes of two on one action where both girls get their asses filled multiple times each during the scene. Minimal set up leaves plenty of time for the trios to fuck each other and we get a healthy amount of g/g play along the way as these babes take care of those hard cocks. You can revisit the pops and see a photo gallery in the special features section. A definite recommendation if you're hot for any of these eight women and you get a nice variety here too in terms of body type, hair color, etc. and the energy level is there too from everyone.