Cuckold Sessions 26
(32)
| | |
| --- | --- |
| | Get it with a Free Trial! |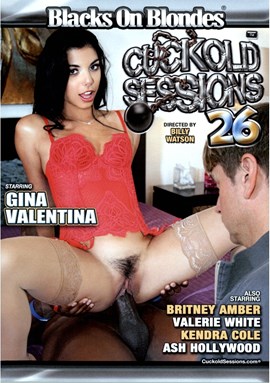 Performers
Director
Studio
Category
Duration (approximate)

Billy Watson

Blacks on Blondes

120 minutes

Date Added:
05/03/2017
Production Year:
2017
Format:
DVD
There are currently no member reviews. Be the first to review this title.
Industry Reviews (1)
Reviewed by Dawg69 06/04/17
Source: AdultDVDTalk



In a nutshell, this segment of the successful "Cuckold Sessions" could have been a hit, however, most of the scenes sport Brothas with so-so cocks, nothing impressive. Moe Johnson's scene might be the exception as he does sport a nice-sized schlong (as does Shane Diesel, but he had some erection issues).

I do have to afford Miss Gina Valentina some well earned kudos though. Her gorgeous-looks, seductive attire, slutty rendition, made her scene work....despite Brotha's lame performance!

Also, kudos to Miss Kendra Cole. She is a very cute, slender, youthful, blue-eyed brunette. She has a tiny mouth and fact she was paired with Shane Diesel's overly-inflated cock, was genius. Miss Cole has to open her mouth as wide as it could possible stretch, just to accommodate Shane's tip. That was hot! Pity that Mr. Diesel can no longer hold an erection longer then 5 minutes! Do these aging Stars know that Viagra is easy to get?!

Note: Opening scene featuring Miss Ash Hollywood almost worked. Ash looking spectacular, however two things took away from this scene; 1. Her opening seduction took way too long! (I fast-forwarded repeatedly, and she was still seducing the camera!) 2. Her co-star (Rob Piper) had a lame, barely average-size cock!

PROS: Gina Valentina & Kendra Cole!