Teacher's Pet 04
(48)
| | |
| --- | --- |
| | Get it with a Free Trial! |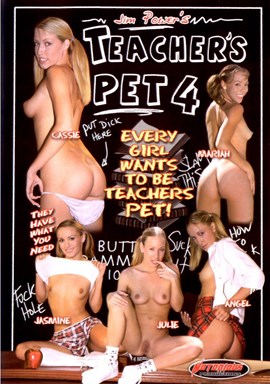 Performers
Director
Studio
Category
Duration (approximate)

Jim Powers

Notorious

90 minutes

Date Added:
08/17/2004
Production Year:
2002
Format:
DVD
Reviewed by East Coast Guy 10/07/06
The best part of this dvd are the previews, showing a lot of action from many dvd titles put out by director Jim Powers- some of it looks quite good. The girls don't show a lot of emotion or passion in the Teacher's Pet series, although the sex is seldom bad. On the main title, there's one scene with two guys (Don Hollywood is one of them) on one girl that's pretty good.
Industry Reviews (1)
Reviewed by Dawg69 01/16/18
Source: AdultDVDTalk



Scene 1 (3.5 of 5 Stars): Jasmine Lynn, Don Hollywood, Dic Tracy. Jasmine sporting a goofy Dunce Cap. Principal Don takes her to School Officer Dic Tracy for some punishment. He leaves her with Dic, but knowing full well that Dic will have the sexy Jasmine to himself, Principal Don locks the door and participates in Jasmine's ordeal. Old-fart Don sports a descent sized schlong. Dic bangs her anally.

Scene 2 (2.5 of 5 Stars): Angel Vs unknown dude. She is smoking in boys bathroom (go figure). Dude takes a piss and Angel comes out of stall and wants some cock.

Scene 3 (3 of 5 Stars): Cassie Vs Dick Nasty. Cassie had been caught smoking grass. She is summoned to Dick's office. He informs her she only has two choices; Get kicked out of school, or stay in school...by sucking some cock. She quickly says; "OK, I'll suck cock...that was an easy choice!" Dick Nasty does more then just letting her suck his cock.

Scene 4 (2.5 of 5 Stars): Mariah & Julie are visiting a farm. Cowboy showing them around and then leaves. Girls notice that a horse has his cock out. Girls are turned-on by his huge cock. Girls then start some fun of their own. Where the numerous dildos came from is a mystery as the girls are outdoors on top of a haystack. Note: It was funny as the girls are eating pussy, the horse sticks his head in the scene as is wondering "what the fuck?"

PROS: Scene featuring old-fart (Don Hollywood) was best scene here.
CONS: Scenes not crystal clear as this is an older production.