Virtual Sex with Briana Banks
(128)
| | |
| --- | --- |
| | Get it with a Free Trial! |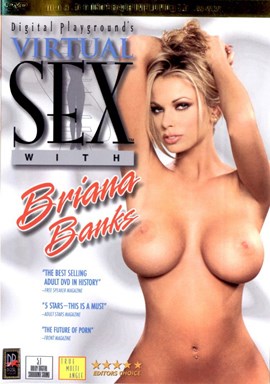 Performers
Director
Studio
Category
Duration (approximate)

Digital Playground

120 minutes

Date Added:
08/31/2004
Production Year:
2001
Format:
DVD
Reviewed by gozoman 09/17/11
this was my first virtual sex dvd i rented and after I watched it its gonna be my last It has briana in front of a black background which made her skiny legs looks like she just got freed out of a consentration camp.The scenes are about 2 minutes and you add togather you may get a half an hour and if you add the other angle maybe another twenty minutes.you be better of renting a compalation.
Industry Reviews (3)
Reviewed by astroknight 04/09/05
Source: AdultDVDTalk



The Little Details

Running Time: approx. 80 min. with all angles and moods

Production Date: 1 / 20 / 2001

Director: Joone

Cast: Briana Banks and you

The Short Story

Initial Expectations: This has been an okay virtual sex series. Im expecting it to be well done but limited.

Initial Reaction: Briana does a nice job, but Digital Playground really lacks with this one.

Who Should Watch It : Fans of virtual sex and Briana Banks

...

---
Reviewed by darkcloud 11/23/04
Source: AdultDVDTalk



Virtual Sex in general has slowed down in production in recent years.... IMO Virtual Sex is great! Thanks to Digital Playground here we have a new 'long overdued' Virtual Sex, with Briana Banks. This is the best DVD in the series. Briana Banks is really tall, around 5'10" and slender with huge tits. She is great looking and acts really well. Her acting ability is up there with Tera Patrick's and Julia Ann's Virtual Sex DVDs. Briana 'fucks' really good, not boring like Jill Kelly's or Taylor Haye's. This movie was filmed couple years ago, SO it lacks features from later Virtual Sex such as ...

---
Reviewed by BigJilm 11/11/04
Source: AdultDVDTalk



Though I had already viewed and enjoyed other DVDs in this series, I was half expecting not to like this one. I mean, of all the so-called virtual sex DVDs out there, Digital Playground makes the best. That being said, they are all identical to one another except for the star. I already had the Tera Patrick, Taylor Hayes, and Devon ones in this series, but started getting bored with them quickly. But Briana Banks is a different story.

She's far from my favorite in the jizz bizz, but ever since she started years ago as "Mirage" she has not done a bad scene (that I've seen, and I'm not ...