Nudes A Poppin' 2004
(26)
| | |
| --- | --- |
| | Get it with a Free Trial! |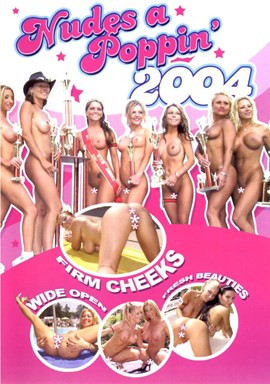 Description: America's most famous nudist resort, the Ponderosa Sun Club, in Roselawn, Indiana rolls out the red carpet for America's greatest nude party each year. Thousands of fans come to see more than 100 beautiful girls competing completely naked in the great outdoors for various Miss Nude titles!
Performers
Director
Studio
Category
Duration (approximate)

Dream Girls

120 minutes

Date Added:
09/14/2004
Production Year:
2004
Format:
DVD
There are currently no member reviews. Be the first to review this title.
Industry Reviews (1)
Reviewed by fu_q 09/12/17
Source: AdultDVDTalk



**Note ? This review is based upon the web version of the film streaming on the AdultEmpire.com Unlimited service. As such, any bonuses haven?t been given a rating, and there could be some discrepancies between this version and other releases.** Review:

It's one sexy stripper after another at Indiana's Ponderosa Sun Club, as an assortment of cuties and cougars from clubs across the country gather together for a tits-out, pussy-pouting, sexual spectacle of the first order. Such is the case in "Nudes A Poppin' 2004", an overall-good release from Dream Girls. There isn't any hardcore here, so many porn fans might find this one a bit boring, but for those who simply love the female body in all of its varied, sexy forms--particularly if the word "forms" implies strippers--then this is a good pick up, much like other installments in the series. Indeed, this event, which has been going on for decades, perennially attracts some of the best and the sexiest from the exotic dancing world, and this flick nicely captures a good deal of the goings-on. While only some of the on-stage activities are shown, plenty of behind-the-scenes material with these nude beauties is committed to tape for the viewing pleasure of the audience at home, including side-show material. A lot of the action involves highlighting the women's various assets as they tease and pose for the camera, or--if there are two girls--roll around on one another and get as close as they can without crossing any lines. A few spread their goods and show off the pink, while others offer up some of their slinky, sultry moves. In essence, an endless parade of generally tight, taut female flesh flashes across the screen as these fine fillies show off what God (...and often their plastic surgeons...) gave them. Though it won't be for everyone, fans of reality "porn", strippers, babes letting it all hang out, and/or fun in the sun are going to want to check this one out. As far as this type of release goes, this one's worthy enough of a look...particularly on an unlimited service.