Playmate of the Year: Carmella DeCesare
(15)
| | |
| --- | --- |
| | Get it with a Free Trial! |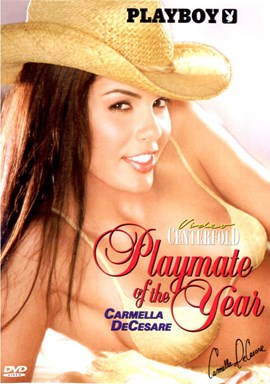 Description: A sexy Italian/Puerto Rican model and college senior from Cleveland, Carmella first caught Playboy's eye as one of 12 finalists for the Fox TV reality show Girl Next Door: The Search for a Playboy Centerfold. Although she dropped out of the competition early, Hugh Hefner recognized her potential and invited her to the Playboy Mansion. With the support of her mom, who auditioned for Playboy 20 years earlier, Carmella seized the opportunity to do a test shoot and her Playboy career skyrocketed from there.
Performers
Director
Studio
Category
Duration (approximate)

Playboy

53 minutes

Date Added:
08/26/2005
Production Year:
2004
Format:
DVD
There are currently no member reviews. Be the first to review this title.
Industry Reviews (1)
Reviewed by fu_q 07/27/17
Source: AdultDVDTalk



Review:
Sometimes smooth-shaven and sometimes sporting a landing strip, the lovely, slender brunette and 2004 Playboy Playmate of the Year, Carmella DeCesare, puts the goods on full display in her short, softcore, PMOY video, "Playmate of the Year: Carmella DeCesare" (2004). An overall-good release from Playboy, this film is of the typical, high-gloss variety from the company and features the stunningly beautiful Carmella in multiple, erotic scenarios: out in wine country, at a bizarre carnival where she's put on display, walking a dog in a plaid overcoat by an antique car, bathing outdoors in a copper tub whilst passersby peep in, posing in a slick, water- and mirror-themed setting, stripping upon a candle-lit bed, partaking in a (very) softcore, poolside, boy-girl encounter, and so on. Of course, there's plenty of interview material with Ms. DeCesare in the typical Playboy vein, as well, giving the audience a chance to get to know her and to hear her story. While these productions from the company were generally fairly formulaic, there's no denying that Carmella, with her exotic, super-tight and super-smooth look, spices this one up beyond the norm. Production-wise, this disc was put together awhile ago, so it doesn't possess the marvelous, high-definition resolution that it might if it were newer, but there's nothing "bad" about it, either. All things considered, fans of the old-style Playboy motif, the lovely subject of the matter, and/or pretty-girl material may want to check this one out. Those interested in jerking off to a porno are obviously going to be disappointed, as that's not really what this is all about.

Bonus-wise, there's further material of Carmella, a video profile of Miss November 2003 (Divini Rae), a Photo Gallery, some previews for other releases, and text-based videography info. I had difficulty getting some of these features to play on my laptop, likely due to the age of the disc's formatting.