Animal in Me, The
(144)
| | |
| --- | --- |
| | Get it with a Free Trial! |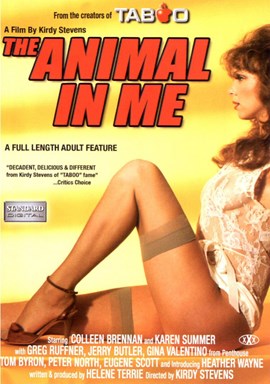 Performers
Director
Studio
Category
Duration (approximate)

Kirdy Stevens

Standard Digital

99 minutes

Date Added:
01/24/2008
Production Year:
1985
Format:
DVD
There are currently no member reviews. Be the first to review this title.
Industry Reviews (1)
Reviewed by fu_q 02/11/17
Source: AdultDVDTalk



**Note ? This review is based upon the web version of the film streaming on the AdultEmpire.com Unlimited service. As such, any bonuses haven?t been given a rating, and there could be some discrepancies between this version and other releases.** Review:

When a hot-to-trot, divorced romance writer (Colleen Brennan) goes on a sexual tear sating one carnal desire after another, she ends up bedding not only her rough-around-the-edges boyfriend (constantly) but also both her secretary (Heather Wayne) and, ultimately, her daughter's (Karen Summer's) long-sought love interest. Of course, this all doesn't play well for her daughter, and just how things will work out for the lot of them remains the burning question of the day. Such is the case in "The Animal in Me", a very good, 1985 release from Standard Digital and director Kirdy Stevens. Featuring the carrot-topped cougar, Colleen Brennan, as a wanton woman obsessed with her own sexual gratification, along with the budding, innocent blonde, Karen Summer, as her love-seeking daughter, this film is both well-cast with strong actresses and also perfectly blended with its contrasting pair of opposites. Indeed, both Brennan and Summer play their parts exceptionally, really bringing the storyline (...also strong...) to life. The sex that accompanies all of this is generally hot, as well, though--for whatever reason--there's a noticeable dearth of cum-shots. Regardless, this doesn't detract much from the overall work, and fans of the classics, Ms. Brennan, Ms. Summer, and/or features are likely going to want to check this one out. It's worthy and then some.

In terms of the

sex

,

Scene One

finds the uncouth Craig Roberts flinging his more sophisticated, fire-crotched girlfriend,

Colleen Brennan

, upon the bed and quickly finding his way into her elegant lingerie (oral, vaginal). In

Scene Two

, a slender, brunette nurse friend of Karen Summer's,

Gina Valentino

, gets it on with her intern fuck-buddy, Tom Byron, on the bed (oral, vaginal, anal), while

Scene Three

pairs up

Colleen

and her secretary, the luscious

Heather Wayne

, after the pair has gotten all hot and bothered by Colleen's romance writing (fingers & tongues). In

Scene Four

, Tom Byron and Peter North bang out

Gina Valentino

after a double-date that goes sideways (oral, vaginal ; facial by North).

Scene Five

brings together

Heather

and Craig on a desk as Colleen dictates their every action from afar (oral, vaginal), and in

Scene Six

,

Colleen

and Craig mutually masturbate whilst she's in the tub and he's seated on the toilet. A bit of BJ work is also included.

Scene Seven

finds the beautiful, perky-breasted

Karen Summer

landing the doctor of her dreams, Jerry Butler, on the family sofa, as her mother, Colleen, watches covertly from the stairway (oral, vaginal). In

Scene Eight

,

Colleen

can't help herself and also takes a crack at Jerry in her bedroom (oral, vaginal ; she jerks him to a facial).

Scene Nine

brings things full circle, with

Karen

sucking and fucking her mom's boyfriend, Craig Roberts (oral, vaginal). Not bad...not bad at all.