Vixens of Kung Fu, The
(29)
| | |
| --- | --- |
| | Get it with a Free Trial! |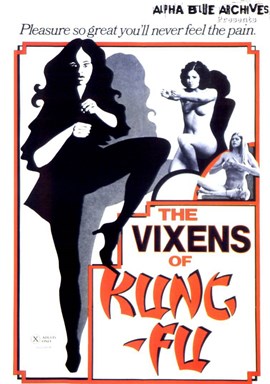 Performers
Director
Studio
Category
Duration (approximate)

Alpha Blue

71 minutes

Date Added:
04/14/2009
Production Year:
1977
Format:
DVD
There are currently no member reviews. Be the first to review this title.
Industry Reviews (1)
Reviewed by fu_q 02/11/17
Source: AdultDVDTalk



**Note ? This review is based upon the web version of the film streaming on the AdultEmpire.com Unlimited service. As such, any bonuses haven?t been given a rating, and there could be some discrepancies between this version and other releases.** Review:

Upon finding herself abandoned after a gang rape at the hands of hunters out in the woods, a young prostitute (Bree Anthony) trains in the martial arts under the tutelage of a kung fu master (C.J. Laing) who happens upon her. Intent on defending themselves from the likes of such men, Laing and her group of followers work diligently at their craft, honing their abilities and guarding against threats...even to the point of directly taking on a well-trained monk (Tony Richards) whom they encounter in the forest. Such is the case in "The Vixens of Kung Fu", a decent, 1975 release from Alpha Blue and director Lin Cho Chiang. Featuring as much fucking as fighting, this short, Golden Age release is certainly a unique entry in its genre. Indeed, it's as much a porno as it is a parody of the popularly cheesy kung fu films of its era, blending sex with a handful of jumpy fight sequences, light Eastern philosophy, and a bizarre, somewhat circuitous plot. The female cast is generally good looking, as it's difficult to deny C.J.'s beauty and there's certainly nothing wrong with Bree, and the fucky-fucky itself is decent enough, though honestly nothing to write home about...especially having been shot largely from a distance and not lasting horribly long. It's fairly clear that this flick from yesteryear will appeal to a certain segment of the porn-watching community--Laing's and Anthony's fans, kung fu film fans, and/or those looking for something a bit "different"--but it may well miss the mark for everyone else. I enjoyed this one, but it's safe to say that not everyone else necessarily will.

In terms of the

sex

,

Scene One

offers up a hillbilly(esque) gang rape of the frizzy-haired brunette,

Bree Anthony

, out in the woods after the young hooker has been accosted by a group of uber-creepy hunters (Bobby Astyr, Jamie Gillis, and another dude who just plays with himself) and shot with a tranquilizer by one of them. Nothing really "kung fu" in this tepid oral and vaginal fucking...that comes later (pop on the tummy and pelvis by Astyr and on the breasts by Gillis). In

Scene Two

, the stunning kung fu master,

C.J. Laing

, chances upon

Bree

after she's been abandoned nude upon the beach after the last sequence. Taking her back to her Eastern-themed dojo, she massages her, oils her up, and gives her a bit of the girl-on-girl lovin' (fingers, tongues, and 69ing).

Scene Three

is a flashback to one of

Bree

's sessions with a black client (oral on her), and

Scene Four

is another with Roger Caine in the same austere room (oral, vaginal ; she jerks him to a spurt on her back out of cowgirl). (The last two segments are intercut with the prior segment.) In

Scene Five

,

C.J. Laing

trains one of her pupils,

Arlana Blue

, by eating her out, playing with her, and frotting her up in the woods. Arlana returns the favor with some 69ing.

Scene Six

finds

Juliet Graham

,

Linda Trussell

, and another blonde--all students of C.J.'s--orally taking a male monk whom they've bested in battle as their master looks on. The "other blonde" also fucks him to a cum-shot on her tummy out of cowgirl. In

Scene Seven

, Tony Richards masturbates in the woods for his own, new kung fu master, Peonies Jong. He squirts on the ground.

Scene Eight

brings together Tony Richards and

Bree Anthony

in a "lengthy", kung fu fuck off in the forest. Plenty of oral and vaginal action ensues, with Richards ultimately pulling out of her from a doggy position and unloading on the ground. Weird...but not bad...but definitely weird.