Sex Boat
(203)
| | |
| --- | --- |
| | Get it with a Free Trial! |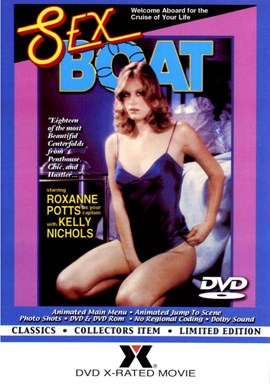 Performers
Director
Studio
Category
Duration (approximate)

David I. Frazer

VCX

Date Added:
09/04/2002
Production Year:
Format:
DVD
Reviewed by Shtupper 06/25/13
Obvious take-off on "Some Like It Hot," with Randy West & Turk Lyon as stow-aways dressed in drag. Great-looking cast and decent storyline make for a fun ride aboard this cruise.

---
Reviewed by naked ape 02/13/12
I was in my 20s, single, and living in a SoCal beach town during the 80s, so I didn't look at porn too much (I was busy making my own).

Now 30 years later I'm catching up on what was going on 20 miles north of me in the Valley, and movies like Sex Boat show me it was pretty impressive.

I have never seen such an array of really beautiful women in one film. Sex Boat launched the careers of lots of 80 porn queens, and I intend to follow them in future rentals.

---
Reviewed by fatbastard14 11/28/08
A porn movie which actually had me caring how it came out - shocking! It had the perfect porn plot in that it facilitated the sex and did not impede it.

Randy West and Turk Lyon dress in drag and get on a chick only cruise ship. As usual when they think they'll get no dick, the babes are horny as hell and much delightful action ensues.

David I. Frazier and Svetlana were known for putting a lot of attractive young squiggies in their flicks and they don't disappoint here. The gals are pretty, have nice perky tits, natural bushes, virtually no tattoos or piercings. A great covey of early 80's poontang.

The technical quality is excellent. This was made by artists. The lighting, editing, sound, color, etc. rival Hollywood flicks.

---
Reviewed by LAcouple 10/22/07
Fun and just enjoy the corniness, something of Love Boat & Some Like It Hot. The ship officers could had been a little more character strengthen to give it credibility. Oh well, it was a laugh here and there. Beer & snacks, save the wine & cheese for something better.

---
Reviewed by Chuck 05/07/07
This was a very funny sex video. A little corny but fun to view. To bad it is not redone under todays better quality production.

Industry Reviews (1)
Reviewed by T0MBOne 02/01/17
Source: AdultDVDTalk



Many moons ago, when I would come home from college, I had access to a group of xxx titles to watch in my Dad's top-loading VCR. SEX BOAT (1980 and 2006 VCX) was one of those flicks. Directed by David I. Fraser and Svetlana, written and edited by Fraser, SEX BOAT is a crazy concoction that's part Some Like It Hot, part Love Boat plus some pirates are thrown in for good measure. A couple of dolts dressed like women (Turk Lyon and Randy West) are stowaways on an all girls cruise and lame comedy antics ensue. However, SEX BOAT stays afloat because of the most incredible cast of beautiful female performers ever assembled for a xxx film. They don't make 'em like this anymore and this 2006 VCX dvd presentation of the 80 minute film looks and sounds terrific.

The first 20 minutes of SEX BOAT reveals a few passengers that are destined for that all girl cruise. The uber lovely LONI SANDERS comes racing home in a blue 'Vette to find hubby Kevin James and her boy toy (real life boy toy at the time) Mike Ranger waiting on the couch. James forces the two to have sex in front of him then James shoots some pix of the duo with Loni riding Ranger and taking a facial on the couch. James kicks Ranger out then ties up Loni by the side of a swimming pool so she can watch him suck and fuck the lovely red head COPPER PENNY and scrawny fake blonde CAROLL ANN JACKSON.

So, Loni is going on the cruise as is SYLVIA BENEDICT, a cute blonde riding in the back seat of of a limo with her chatty Aunt Martha. The cutie opens up her legs to give limo driver Turk a peek at her pussy that she plays with. A horny Turk enlists Randy West to also dress in drag and become his partner in crime as they stowaway on the all girl cruise.

The final hour of SEX BOAT is loaded with sexual hijinks and lame comedy bits onboard ship. Turk and Randy are lousy comedians as they occasionally reuse lines from SOME LIKE IT HOT and even re-enact a routine from the Hope and Crosby 'ROAD' films but they are not primarily there for their comedic acting chops - they are primarily there for fucking.

A bunch of babes sleeping in hammocks leads to Turk's three way encounter with a twangy HILLARY SUMMERS and the gorgeous LINDA REEVES. Intercut is West's encounter with TERRY GALKO in a different cruise ship environ.

Our stowaways do not get much rest then the next morning the duo spy on two deck hands cleaning up. KELLY NICHOLS and DANA DENNIS are the deck hands whose hands are soon all over one another for a solid girl/girl encounter in the bright sunshine.

Our stowaways corner ship's purser KANDI BARBOUR in a hot tub so the duo bend Kandi over and take turns doggy fucking with this beautiful babe plus there's a facial finisher bonus.

That night, Randy drinks too much then gets thrown in the brig but Turk ducks under a table with busty PAMELA JENNINGS for cock sucking, titty fucking and dick riding.

Followed by 5 lovely females, Turk darts into a room where he fucks all five, munches pussies with 10 legs lifted into the air as well as lands a cum shot dropped on as many feet as he could find. Lovely and leggy RENEE LA PAZ and VICKY STEELE join KELLY NICHOLS, DANA DENNIS and LINDA REEVES in the cock sucking that leads to each taking a turn with Turk with Renee climaxing for the fucking finale.

SEX BOAT's last 20 minutes reveals a rag-tag band of pirates who come onboard ship to kidnap a cutie while raping a few women including ship captain ROXANNE POTTS aka leggy and lovely CODY NICOLE, leggy NICOLE BLACK and busty LITTLE ORAL ANNIE. Nicole and Annie's pirate encounters are brief and intercut but CODY NICOLE is stripped down to a bra and bowtie then sucked and fucked in her captain's chair by pirate R J Reynolds for a terrific encounter that really delivers, may-tey!

Meanwhile, Turk rescues Randy and the two finally subdue the lame pirates and dump them in that prison cell along with their cohort, the ship's captain. In a stateroom, Turk beds SYLVIA BENEDICT in an encounter that seems too rushed with too many dissolves from one position to the next. SYLVIA looks great but one wonders if NANCY SUITER was their first choice for this role?

Randy becomes the new sexy captain and the final image is a freeze frame of the film's director, Svetlana, who had been assisting the ship's captain throughout the film in a non-sex cameo role, starting to go down on Randy whose newly seated in the captain's chair.

So, don't miss SEX BOAT (1980) and its bounty of beauties that spend most of their time sucking and fucking stowaways and pirates.
This terrific David I. Fraser and Svetlana production still looks great after all these years so set sail for this one!

!!!! 1/2 outta !!!!! for the wacky and wonderful SEX BOAT

Over the years, I would encounter many of these lovely female performers in other xxx films from the early '80s so this QUICKIES edition will celebrate some of SEX BOAT's incredible bounty of beautiful babes.

In order of their appearance in the film:

LONI SANDERS---Uber cute Penthouse Pet is on display in 8 TO 4, a starring role in BEAUTY, NEVER SO DEEP, with Marilyn Chambers in UP N COMING and SUMMER OF '72 plus I loved her in this little piece of fluff called PLEASE MR. POSTMAN with Loni playing the sexiest mail lady ever.

HILLARY SUMMERS---This thin, blonde beauty lands roles in some incredible films like PANDORA'S MIRROR-see my review for that film, PINK CHAMPAGNE-see my review for that film, THE BUDDING OF BRIE, the superb Cecil Howard flick PLATINUM PARADISE and she joins that incredible cast of YOUNG, WILD AND WONDERFUL.

KELLY NICHOLS---Don't miss Kelly in ROOMMATES and in another Chuck Vincent film GAMES WOMEN PLAY. Jack Remy beautifully captures her in MISTRESS 1 with Kelly never looking more beautiful. Kelly gets down and dirty for De Renzy in his DIRTY GIRLS with a couple of DP positons that are unleashed in a three way. Kelly scores in a more romantic flick as she plays a DJ in SLIP INTO SILK. Catch Kelly in CORRUPTION especially since the fine folks at Vinegar Syndrome have restored the film.

KANDI BARBOUR---Such a beautiful woman who tends to land scenes in some top notch productions like that wild bit in BUDDING OF BRIE, her wonderful role in PLATINUM PARADISE plus she looks especially yummy in a couple of encounters in YOUNG, WILD AND WONDERFUL. She has more of a leading role in NANCY BLUE, a flick I've been unable to catch plus she has many encounters as Kate in KATE AND THE INDIANS but that flick is so incredibly stupid and inept - a waste of her carnal talents.

NICOLE BLACK---Leggy and long haired Nicole is yet another who landed few starring roles. She's hot in TOUCH ME IN THE MORNING as Veronica Hart watches her suck and fuck session with a guy. She lands a step sister role and a scene in BEAUTY as Loni Sanders snares the Cinderella-like lead. She's also in DESIRE FOR MEN and HOT LINE. Maybe her most interesting film is THE POWER OF NICOLE (1984) that's similar to some of these single star showcases of today. Sadly, like so many of these crappy modern gonzo productions, an off-camera interviewer nearly ruins this flick. Skip his shtick in favor of Nicole's many encounters.

I have not seen much by LITTLE ORAL ANNIE or SYLVIA BENEDICT but at least Annie appears in a few solid productions like F and I LIKE TO WATCH.

ROXANNE POTTS aka CODY NICOLE---Oh, how many times did I fast-forward to her sex scene since I had had a crush on someone who was a pint-sized version of Cody? See my review of Joe Sarno's STRAY CATS for more about her but I would like to mention her back-seat encounter with Angel in TOO NAUGHTY TO SAY NO because Vinegar Syndrome has done such a fine job of restoring that film.

And finally, I dedicate this review - maybe my last - to LINDA REEVES, the lovely woman, who had landed a few sex scenes in SEX BOAT then retired after her one film appearance! Let's hope that life has been good to you and all of the other above-mentioned performers, who may - or may not - still be with us after all of these years.