Not the Bradys XXX: Bradys Meet Partridge Family
(143)
| | |
| --- | --- |
| | Get it with a Free Trial! |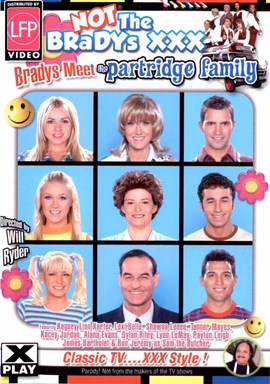 Performers
Director
Studio
Category
Duration (approximate)

Will Ryder

Hustler

134 minutes

Date Added:
05/27/2010
Production Year:
2010
Format:
DVD
Reviewed by Capt. Tight Pants 09/19/10
Not nearly as good as the other installments. Lexi's scene is the best thing about this movie. I gave the other installments extra points for effort but since the sets are being reused I can't give too many extra points there. The dialog is lame but I guess that's intentional. If you haven't seen the other movies in this series I'd see them first. This is my least favorite.
Industry Reviews (1)
Reviewed by bono-ONE 05/30/10
Source: AdultDVDTalk



Welcome fans to another installment in the Not The Bradys XXX franchise and this time out we're bringing in another tv family for some extra XXX ummph! It's only two but we get Keith Partridge and Shirley Partridge joining this show which focuses on Marcia having a thing for Keith and as things go it all blows up leading to XXX mayhem. Let's get to the story shall we.

Alright so we head to the Brady's house on a nice calm day. The sky's blue, the birds chirping, lol. Ahh we have Carol and Mike discussing Marcia's crush on Keith Partridge, even Alice agrees things are getting to much. Ok ...