Spider-Man XXX: A Parody
(109)
| | |
| --- | --- |
| | Get it with a Free Trial! |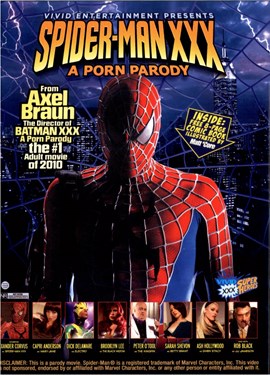 Performers
Director
Studio
Category
Duration (approximate)

Vivid

100 minutes

Date Added:
08/03/2011
Production Year:
2011
Format:
DVD
Reviewed by Pornoman 10/03/12
Spider-Man is one of my favorite superheros when i heard they made a porn parody i had to see it. and i was not disapointed. it actually is not a parody of the movie thats what i thought at first. When i saw electro in as the bad guy i thought that was cool and throwing kingpin in there was cool to and black widow she is hot. After i saw the guy who played Kingpin i was thinking that he would do a good job playing him in a spider-man or daredevil 2 movie since we lost michael clark duncan and electro would be a cool villian to put in the movies. i thought that the costumes were pretty cool. for a porn the screen play/story was good and all the girls are hot as hell. if you have not seen this movie then i recommend you do

---
Reviewed by Jeff 11/28/11
this move was about nauseating I found not even one bit of humor in it waste of time & money & to top that off its a 60 dollar dvd set i cant believe people would waste money on a production that was this bad my advice go on to the next parody flick. My suggestion rent justice league.

---
Reviewed by Aplus 10/15/11
Of all the parodies being made, this one was the least expected for me. Spider-Man has always been wipe for a porn parody though given the about of women he's dealt with. Electro is the main villian, with Betty Brant, Mary Jane, Gwen Stacy, and even Black Widow nicely thrown in. Other than the Black Widow though, our hero, whether Spidey or Peter Parker, doesn't get much action though. That alone made this a disappointment for me. Maybe the promised sequel, with Black Cat promised, will have more Peter/Spidey action. The production was pretty good though for a porn movie.
Industry Reviews (2)
Reviewed by fu_q 10/12/11
Source: AdultDVDTalk



Review:
?Spider-Man XXX? from Vivid is an exceptional parody of the popular comic book franchise of the same name. In this production, director Axel Braun and his hand-picked cast of adult stars do an excellent job of bringing to life the sexual sides of the web-slinger and his various associates and antagonists, all-the-while still managing to maintain the credibility of their overall characters. Indeed?and as is typical of parodies from Braun?painstaking attention has been paid to detail. From the sets to the costumes to the storyline and so on, everything works well here. ...

---
Reviewed by Rosco Fuji 08/21/11
Source: AdultDVDTalk



Spiderman Spiderman,
Does whatever a spider can,
Spins a web any size,
Catches thieves just like flies.

Your friendly neighborhood Spiderman is about to get caught in web of sexual bliss! Will he be able to save the city from the Evil Menace or Electro and the Kingpin? Will he finally choose between Gwen and Mary Jane? Will he manage to resist the charm of the Black Widow? Peter Parker?s secret identity turns out to be a lot more exciting in Axel Braun?s sexy spoof Spider-Man XXX: A Porn Parody brought to you by Vivid Entertainment, the world?s leading adult film company...