Cream Dreams 01 (Disc 1)
(64)
| | |
| --- | --- |
| | Get it with a Free Trial! |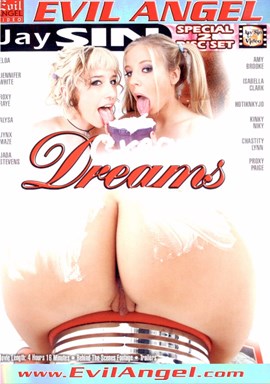 Performers
Director
Studio
Category
Duration (approximate)

Jay Sin

Evil Angel

169 minutes

Date Added:
02/17/2012
Production Year:
2012
Format:
DVD
Reviewed by ccgo 07/19/12
One of Jay's best, the 2 scenes with Jennifer White and Eloa and Jada Stevens and Amy Brooke, perfect scenes. Jay Sin though may not be for everyone!
Industry Reviews (1)
Reviewed by Long Noel 01/13/18
Source: AdultDVDTalk



Cream Dreams (2012)

THEMES: All Sex, Anal, Gonzo, Ass Obsession, Lesbian, Toys

The Cast: Eloa Lombard, Jennifer White, Alysa, Roxy Raye, Jynx Maze, Amy Brooke, Jada Stevens, Isabella Clark, HotKinkyJo, Kinky Niky, Chastity Lynn & Proxy Paige

A Jay Sin Movie

---

Jay Sin's porno flicks are worthy of checking out and even for those who find day's porn far too graphic, there's a guaranteed reaction of either disgust or allure for even the old-school porn viewer. Jay Sin's videos contain a bit too much of everything. They reveal way too much pertaining to the female genitalia (including the showing of intestines, massive gapes, etc...), women expelling multiple dairy products out of their asses, ounces and ounces of spit, sex with food, massively huge anal toys and an occasional stud to fuck some of the females. Otherwise, most of the sex in his videos consist of girl/girl. Even that said, some of the girl/girl action is more repulsive than what's shown in a Belladonna video.

"Pretty Sloppy" is easily known as Jay Sin's tour-de-force. As bizarre and unusually unique that video is, I feel that even after seeing it almost 9 years ago (it was released in 2009), it's one of the very few skin flicks that stands out and never really ages (based on it's picture quality and futuristic depictions of female sexuality). This is the reason why I said it's the #2 greatest adult video ever made (a belief I still strongly hold). But after seeing "Cream Dreams", I was very disgusted and appalled.

In short, there are six scenes and the only one that really stood out was the first scene with Jennifer White & Eloa Lombard. It was like watching 2 females in a Johnny Rockets restaurant or some shit. Kinda reminded me of a movie directed by Clarence Ford named "Naked Killer" (a Chinese remake of "Basic Instinct"). The girls even booty clap and twerk while cream are on and in their asses. Jennifer moves her body like a sultry snake before squirting ass cream all over the place. This was the highlight of the entire movie. The rest of it is repulsive, contempt-worthy, abomination tripe garbage.

Every scene has the same concept that was similar to Jay Sin's masterwork, except dairy products are used (milk, whipped cream, ice cream and even cereal) rather than spit. The second scene's highlight was when Alysa & Roxy Raye were fucking around on a beach and one blonde girl gets sand on her ass and we see her switching and walking and going up a flight of stairs with sand on and all in her ass crack. Plus she holds her ass open a bit. It's a sight to look at, but who's that bored to watch chicks fucking around on a beach for 10 minutes... on TV? After they play in a shower with body wash, baby oil, oversized dildos and dairy products, the blonde girl goes back into the hotel lobby, switching hard as fuck in a bikini and plays in her butthole as she waits for an elevator. Then inside the elevator, she pulls her anus open and does the most disturbing and disgusting anal prolapse I ever seen before going swimming. Something I never saw in porn is when Jay Sin takes the camera underwater and captures this chick flashing and it actually looks perfect. Great camerawork! But she prolapses her anus again underwater and some disgusting fluids gets expelled.

It gets worse...

And tell me why is Jynx Maze (a bad b*tch, btw) playing with herself in a room designed for a newborn baby? She puts whipped cream enemas in her ass and shits out the whipped cream in a fucking cereal bowl before stuffing her ass with anal beads and this was enough for me to turn this movie off. But I found myself using the FFWD button a lot after this. The two scenes after this bored the hell out of me and even it's high level of nastiness and messiness couldn't keep me entertained. Every scene includes women having cream, milk and ice cream poured on them and even shitting yogurt or cream out of eachother's asses and into eachother's mouths, like a damn yogurt machine. In the final scene, two females are doing a repeat of Jynx Maze's scene. The same infant baby room and concept. The two expel milk out of eachother's asses and into a bowl and pile of cereal and eat it. I found it repulsive, unrealistic, appalling and an abomination of real, true human sexuality.

This movie had potential to be another "Pretty Sloppy", but there was too much BS in here. Jay Sin seems more interested in creating shock value and pushing the envelop than making a great video here. I shudder at the thought of someone getting off on this shit repeatedly, but... that's on them. The cover of this flick looks great, but this movie was total trash. Out of 6 scenes, only one was worth watching thoroughly. I didn't even care to watch the extended footage added in the extras.

REPLAY VALUE: 30%
OVERALL VALUE: 30% - Avoid it.